Stay up to date
NFAA

News
Jun 01, 2015
Archery: A Family Sport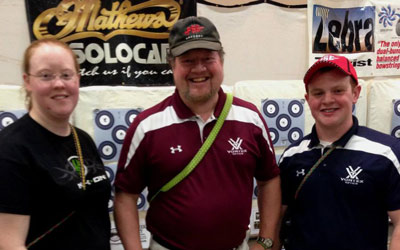 Pictured: The Button Family (Jessica, Jeff, and Dan)
1. How long has your family been shooting?
We have all be shooting since we were five years of age. Together would put us shooting together for 14 years, as Dan Button is the youngest. Jeff and Jessica have been shooting together for about 20 years.
2. Does you family practice together and how often do you practice?
We try to practice together. Some of us have different ideas as to what may count as practice but it all works out. The three of us on average practice about once a week for a couple hours. Jeff and Dan usually shoot together most days of the week. This of course is not during school years or the "off season" of archery being mainly the fall and spring time. The summer days are usually when family likes to spend time outside. Of course when we are not golfing.
3. How many tournaments have you competed in as a family?
Too many to count, haha. Estimating a tournament a weekend for the last 10 years would be up around 520 tournaments but that would be a low estimate as there are often multiple tournaments during the week or weekend.
4. What is your favorite archery memory as a family?
Every chance to shoot is a memory for our family. We love the sport and the passion that thrive in the competitors so really every chance is our favorite memory. A more specific memory would be several years ago at the last time NFAA nationals was held in Mechanicsburg, PA. This memory really stands out in our eyes because we all shot well, but more importantly we had rented a house with a bunch of friends from Wisconsin. There were almost 10 people living in one side of this huge Victorian house right downtown. The whole week outside of shooting was a blast in itself. Home-cooked meals everyday for breakfast and dinner. Couldn't go wrong with that and good company. We still reminisce in this experience when talking with friends about our travels.