Get Involved
Awards Programs
The NFAA offers a diverse awards program for bowhunters and competitive archers. Awards are available at the National, Sectional, State and Club level. For details regarding the available awards programs, please reference the NFAA Constitution and Bylaws or contact headquarters.
Scoring Achievement Awards
For all scoring achievement awards, archers must be NFAA members at the time of the achievement. Field scores must be achieved from the Adult stakes on a NFAA certified range at a NFAA state, sectional or national tournament, National League, club league, or a NFAA sanctioned club tournament. The award(s) must first be purchased through the NFAA Store before the corresponding award application can be completed.
scoring achievement keychains
Earn Scoring Achievement Keychains by meeting score thresholds at any NFAA State, Sectional, or National tournament, local league, or National League. Awards are offered for a variety of rounds, and charms can even be added to further distinguish your accomplishment.
Shop scoring achievement keychainsthen complete award application
scoring achievement keychains - bulk-ordering for nfaa clubs/shops
NFAA clubs and shops can place bulk orders for Scoring Achievement Keychains to promote their leagues, incentivize members, and take advantage of bulk discounts with coupon codes. Order 25 or more, use code 1OFF25 for $1 off each keychain. Order 50 or more, use code 2OFF50 for $2 off each keychain. The club/shop is responsible for verifying the scoring achievement.
shop club bulk-order keychains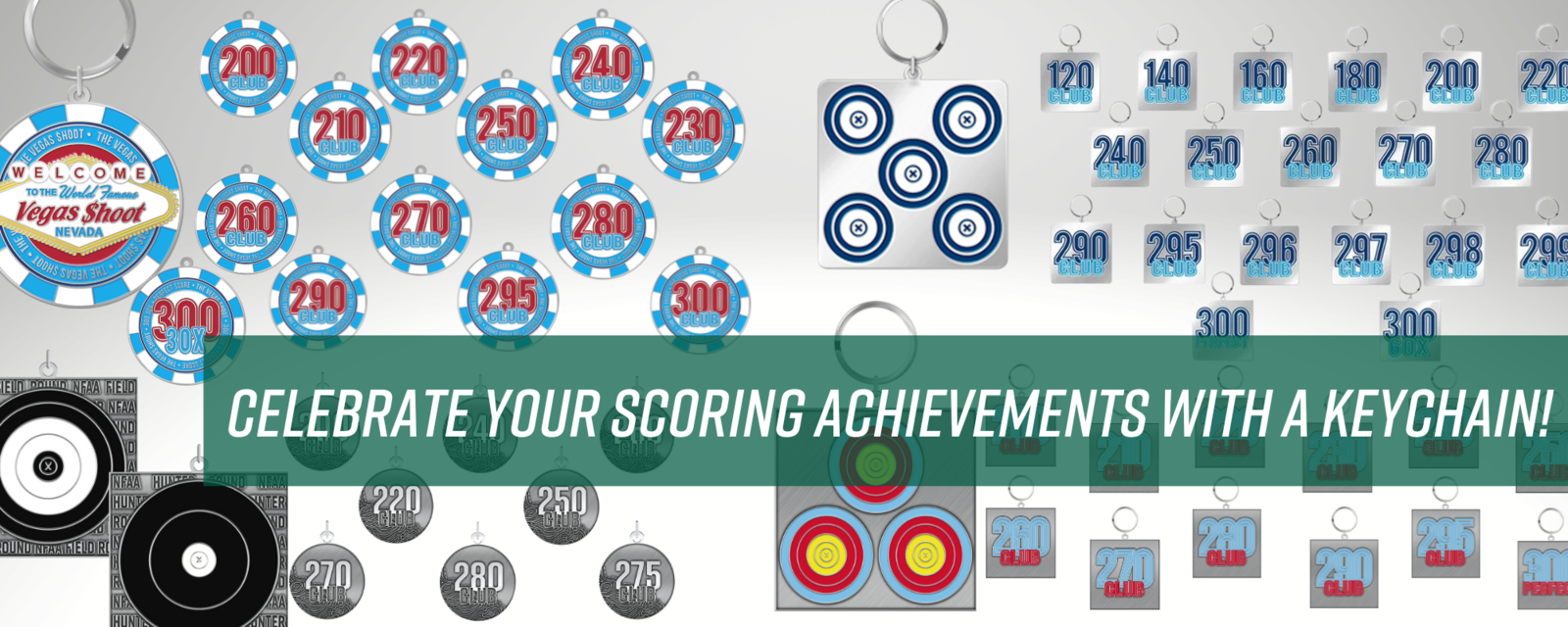 field awards
Field / hunter 20 pins & bars
Distinctive 20 pins and set of bars may be earned by any member shooting the Adult stakes on the NFAA Field or Hunter Rounds. Members become eligible for these awards by shooting a score of 20 on any Field or Hunter target.
NFAA 500 club
Earn the NFAA 500 Club patch by recording a score of 500 or more from the Adult stakes on a 28-target NFAA Field round, 28-target NFAA Hunter round or a combination of 14-target Field and 14-target Hunter.
nfaa perfect round
The NFAA Perfect Round award is available to any member who records a perfect score on any of the following official NFAA Rounds: 14-target Field, 14-target Hunter, 14-target Animal, and International. Scores must be achieved at the Adult distances.
Get rewarded for your membership service! Cumulative NFAA membership is recognized by the awarding of an appropriate lapel pin. Periods of membership awarded are 10, 15, 20, 25, 30, 35, 40, 45 and 50 years. Pins are automatically awarded by NFAA Headquarters after the membership anniversary.
Member of the Year and Club of the Year
Do you know someone who has gone above and beyond in their service to the sport of archery? What about a NFAA Club or Shop in your area that has seen exponential membership growth or has become a pillar in their community due to extraordinary involvement? Each year, members are invited to nominate deserving members and clubs who have made a positive contribution to the sport of archery in their community. The selected winners receive special recognition and awards at the end of the year.
Nominate the 2023 MOY and COY today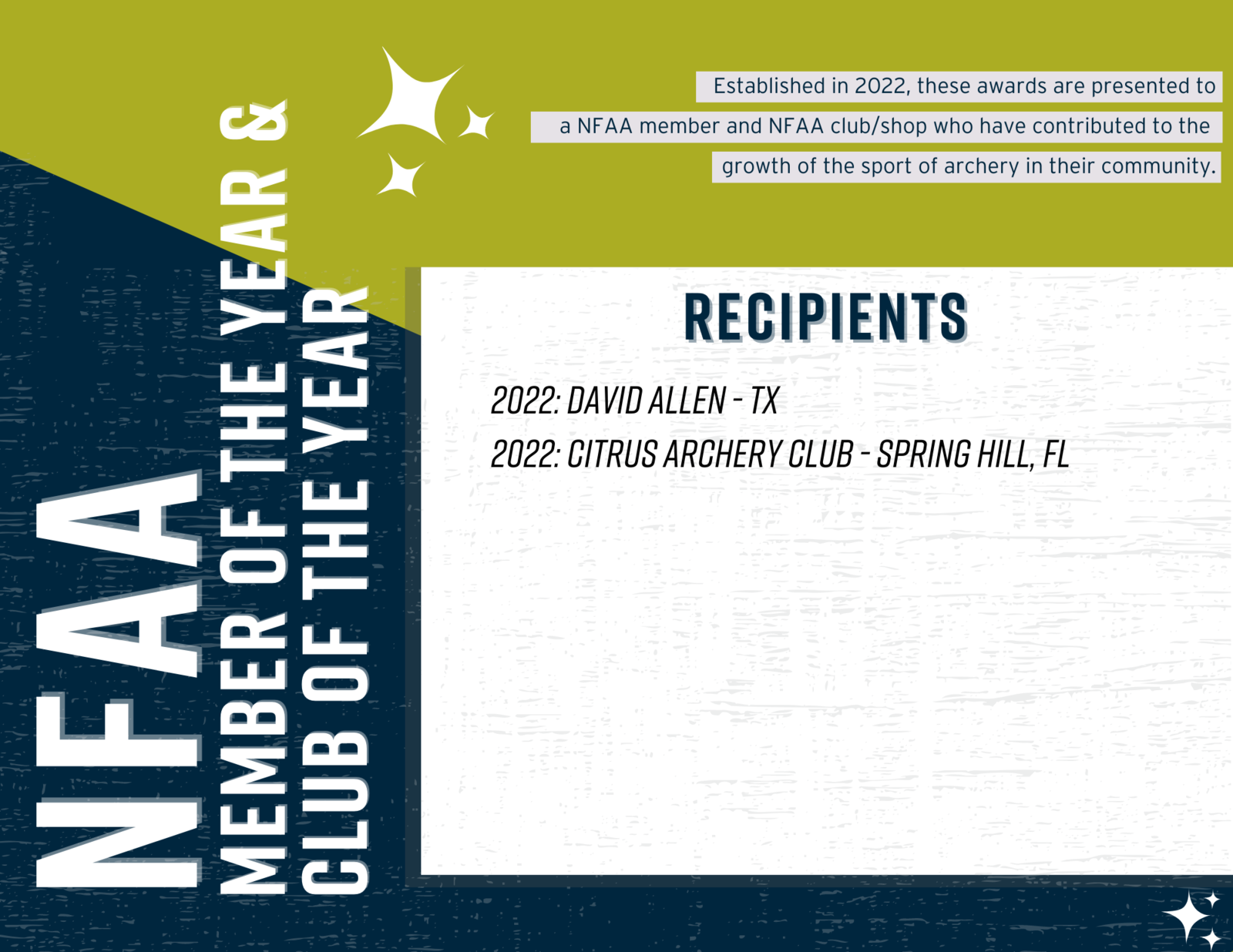 Any member who telescopes an arrow previously lodged in the highest scoring area of a target during an NFAA sanctioned event is eligible for recognition in the Fellowship of Robinhood. The award(s) must first be purchased through the NFAA Store before the corresponding award application can be completed.
purchase fellowship of robinhoodthen complete award application
The Compton Medal of Honor is known as the most highly esteemed award presented by the NFAA. It is awarded sparingly and only in recognition of a lifetime of outstanding and unselfish contributions to archery. An NFAA committee is appointed and in charge of safeguarding the future of the award. In conjunction with receiving the Compton Medal of Honor and lapel pin, the recipient will automatically be awarded an Honorary NFAA Lifetime Membership.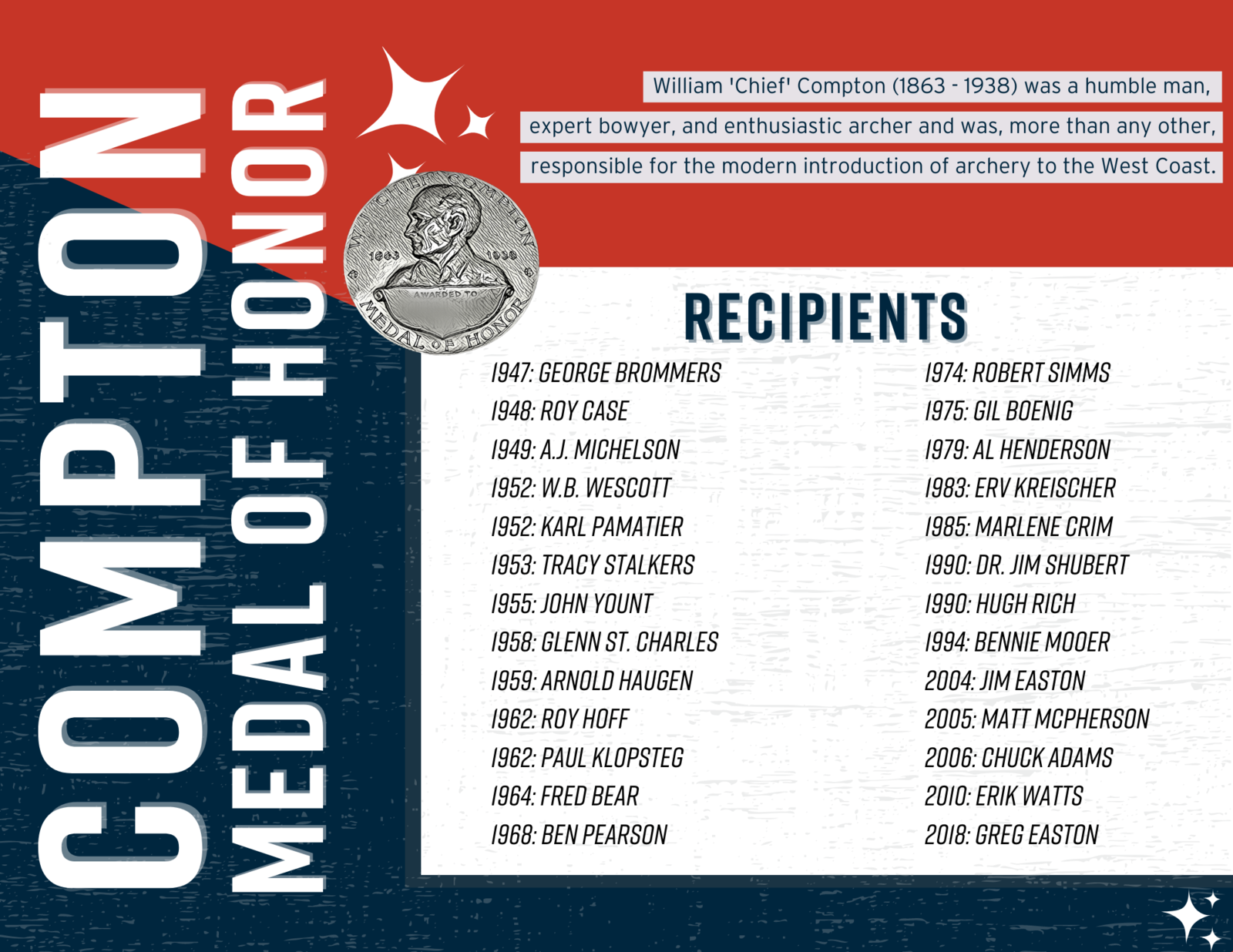 The NFAA President's Award is known as the second highest honor presented by the NFAA and is awarded sparingly in recognition of outstanding service to the archery community. The recipient of the NFAA President's Award is chosen solely by the current President of the NFAA.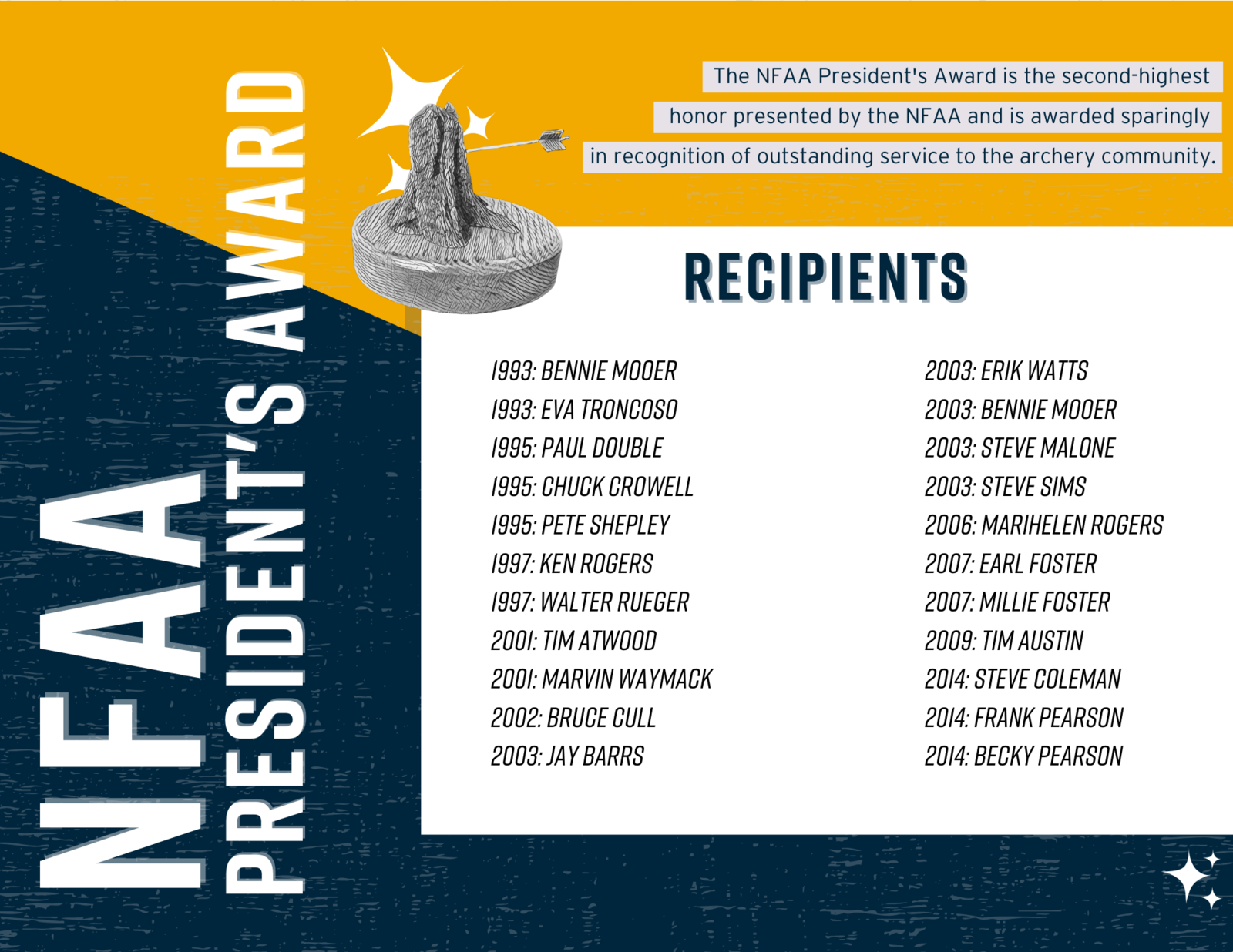 The NFAA Medal of Merit is awarded sparingly in recognition of unselfish contributions to field archery and its closely allied activities. The inscription, "Opera, Artes, Honor" (Works, Skills, Honor) which appear on the medal, serve as the measure.
Worthy members of the NFAA may be nominated for the Medal of Merit by State Directors, Section Councilmen, NFAA Chairmen or the NFAA Council.