Stay up to date
NFAA

News
Feb 24, 2017
Behind the Scenes at The Vegas Shoot
Andrea Vasquez -- Las Vegas (USA)
Each year, the South Point Hotel, Casino & Spa transforms into the world's largest indoor archery venue.
Located in the southwest of Las Vegas valley, 15 minutes away from the famous Las Vegas Strip, the South Point Hotel, Casino & Spa welcomes over 10,000 people, between archers, family, friends and spectators, from all around the globe to shoot, watch or simply enjoy the Vegas Shoot.
Two main halls, three arenas - one which normally act as the USA's finest indoor horse riding facility - a trade show room, a VIP training room, a bow storage room and four meeting areas for the NFAA and World Archery staff, occupies well over 200,000 square feet.
A total of 8,000 hotel room nights have been booked at South Point, and other 1,600 in the Grand View Hotel, which is right next door.
So, ever wondered how we manage to fit more nearly 3,500 archers on the shooting line this year? Here's an overview of the Vegas Shoot 2017 archery venue?
Arena of Spades
The Equestrian Centre, used in the Vegas Shoot as the Arena of Spades, is the place where champions are crowned. The Indoor Archery World Cup Finals take place on Saturday 11 February and the Vegas Shoot championship on Sunday 12 February. It covers an area of 30,000 sq ft and hosts more than 5,000 spectators.
It has five different shooting lines throughout competition days.
Clubs and Practice arenas
Clubs and the General Practice arenas are also in halls located off the Spades arena. Together, they take up a total of 62,500 sq ft in space. This is where the youth divisions competed the first two days.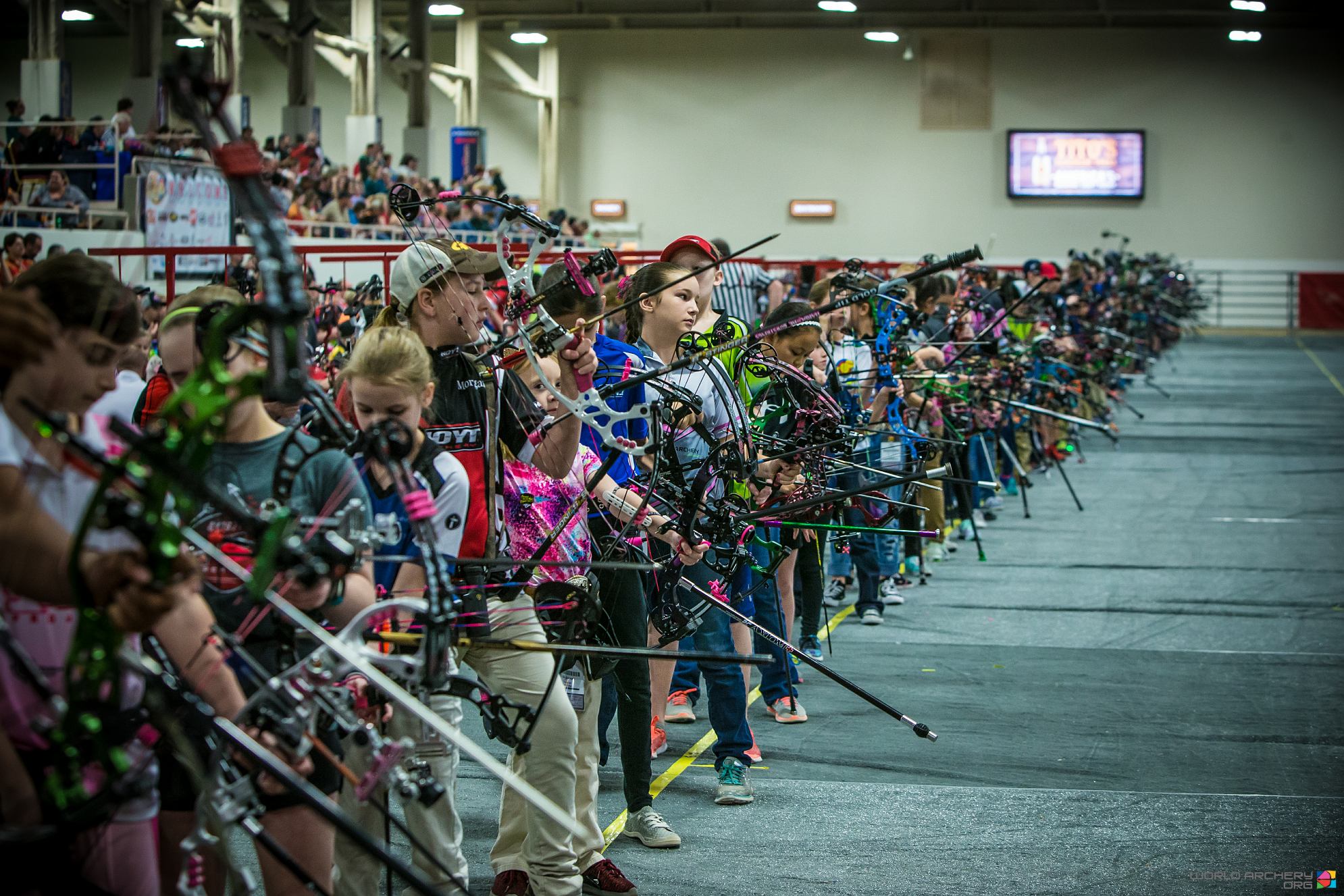 Hearts and Diamonds halls
Not going for the Championships or the Indoor Archery World Cup Final but love archery, the Vegas Shoot and meeting friends? Then you might belong to the Hearts and Diamonds halls, areas in where amateurs meet to enjoy the largest archery event of the year.
Just like the Spades and Clubs arenas, both host five different shooting lines each of the three competition days. Both occupy areas of 4,000 sq ft and are next door to each other off the main reception hall.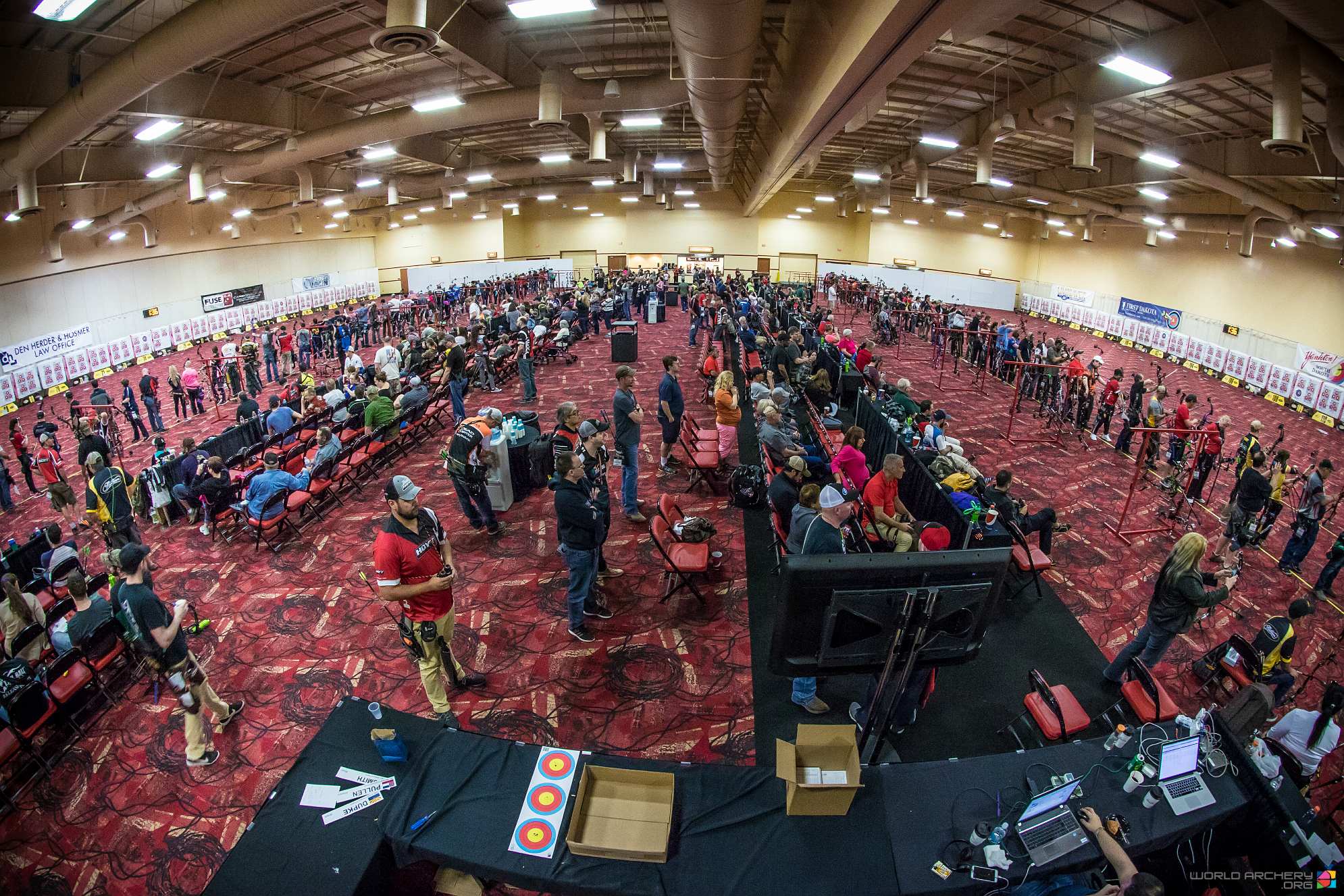 VIP practice room
For those archers shooting for the Vegas Shoot in the championship divisions, there is a special VIP area reserved where they can practice each day without worry for queues or congestion. It has an area of 21,600 sq ft and it's located off from the main casino in the hotel.
Trade show
More than 100 booths for national and international manufactures and retailers show goods in the Trade Show. It's heaven for archers at any level looking for the best in archery gear.
It's also where business is made, where professionals meet amateurs and the centre of the fun for giveaways? because who doesn't love getting free stuff?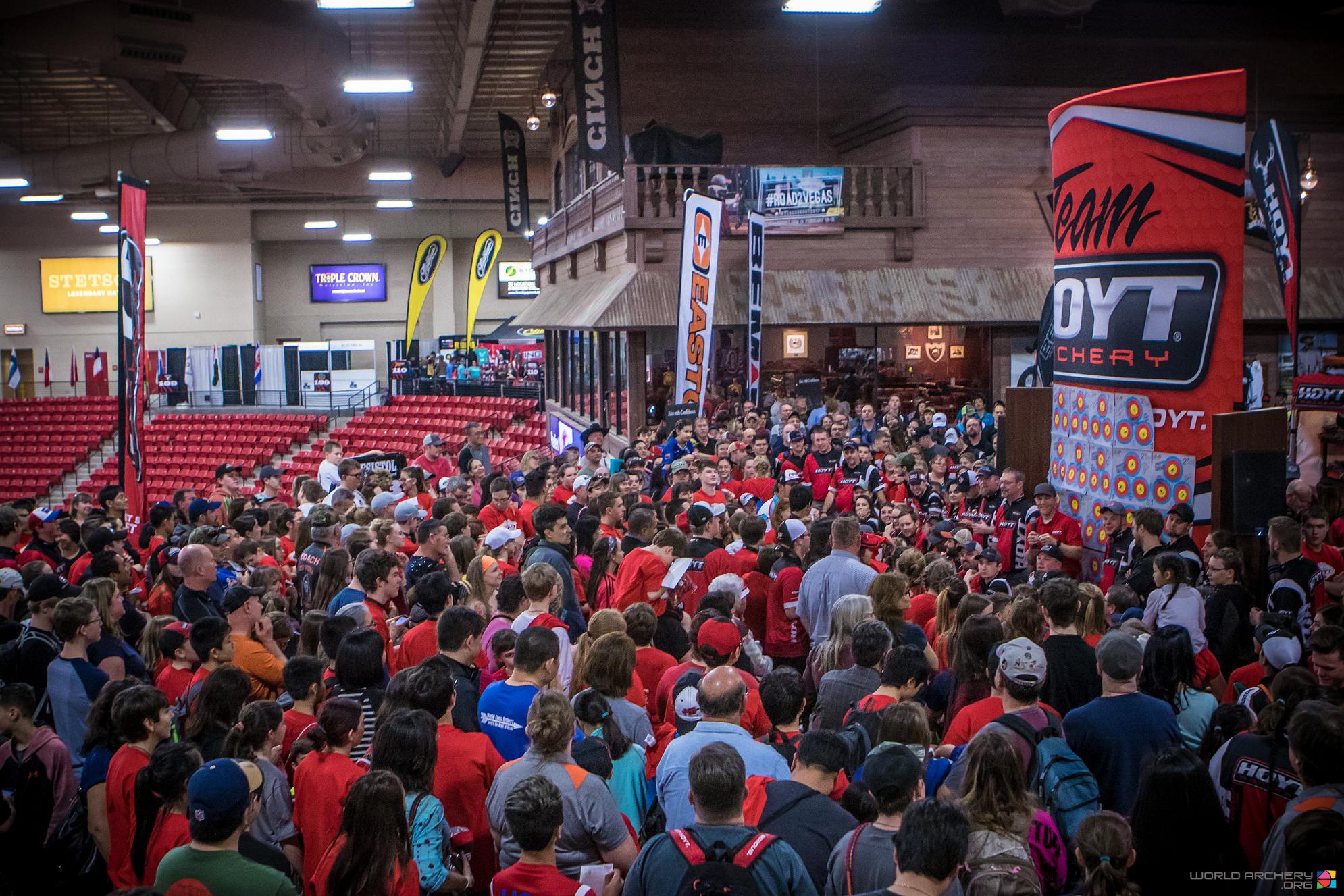 Registration and meeting rooms
Ever wonder how 3,485 archers got registered for the Vegas Shoot 2017?
Well, that's thanks to the NFAA staff that worked hard (and fast) all Thursday and Friday to have everyone through the registration process, with their welcome kit received, scorecards, target assignment, target name and a goodie bag.
It's also the heart of the results office, where completed cards are checked and rankings (and prize money) issued.
Three more rooms, available for VIP guests and sponsors, World Archery staff and meetings are also in use.
Bow storage room
Archers are used to traveling distance with their bows, but it doesn't make sense to move around the hotel or Las Vegas with kit bags in tow each day. There's a bow storage room where archers can leave their equipment on site, withdrawing it whenever they want to compete or just practice.
The Vegas Shoot and last stage and finals of the Indoor Archery World Cup season 2016/17 runs 10-12 February.