Stay up to date
NFAA

News
Mar 23, 2016
Indoor Nationals 2016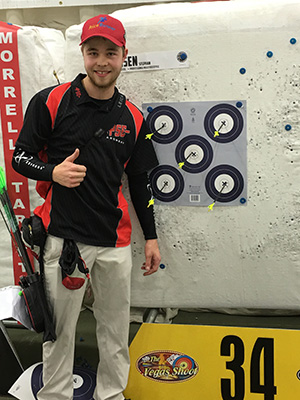 1,925 archers competed in Louisville, KY on March 19 and 20 at the Indoor Nationals this year. The two-day tournament began at 7 a.m. on Saturday, but the real fun began on Friday.
Friday allowed archers who arrived early to practice before the big tournament for a few hours. Practice with the Pros made an appearance again for any archers 17 years old and younger.
"Practice with the pros has been growing exponentially and it's been a huge success," Greg Poole said.
On Saturday after shooting ended for the nationals, the Indoor ProAm was held. 214 pros and amateurs participated in this event. You can see a full list of results from the ProAm here.
After the two days of shooting 99 of the archers in the Pro Male Freestyle class shot perfect 600 scores. But only nine archers finished with a perfect 600 and 120 X's.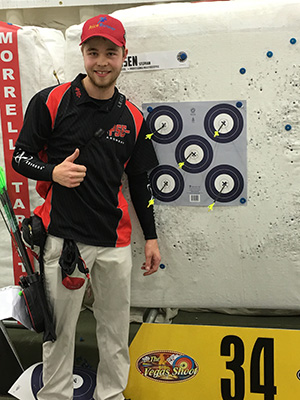 The nine pros that competed in the shoot-off on Sunday were Jesse Broadwater, David Houser, Nathan Brooks, Sam Wolthuis, Donnie Thacker, Stephan Hansen, Tate Morgan, and Alex Wifler. After the second end six of the archer's fell out of the competition but three remained. Broadwater, Brooks, and Hansen shot one more end before Brooks was eliminated. Broadwater and Hansen battled for two more ends before Broadwater dropped one arrow, resulting in Stephan Hansen, from Denmark, winning the 2016 Indoor National Pro Male Freestyle class.
"It feels really great," Hansen said. "I struggled the first ends, but then I started to achieve my goals after the first two ends so I started to enjoy myself since I had gotten this far."
This was Hansen's first time competing at the Indoor Nationals, and he was the second international pro archer to win the Indoor Nationals. Mike Schloesser was the first international pro archer to win and he won the 2015 Indoor Nationals. This marks two consecutive years international archers have won the indoor tournament.
The Pro Female Freestyle class had a total of 19 perfect 600 scores after the two days of shooting, but only one woman came out victorious. Sarah Lance emerged as the champion for the Pro Female Freestyle class with a score of 600 and 118 X's.
"It feels pretty good to win," Lance said. "I had missed one X [on Sunday] but I kept going and thinking positive."
Holly Larsen placed second and Crystal Gauvin placed third.
Brady Ellison won the Pro Male Freestyle Limited Recurve division. Lee Ford-Faherty won the Pro Female Freestyle Limited Recurve division.
If you couldn't attend or didn't watch the live broadcast of all the final shoot-offs you can watch it here.
You can see the full list of results from the 2016 Indoor Nationals here.