Stay up to date
NFAA

News
Jun 16, 2016
New Format Tested at the 2016 First Dakota Classic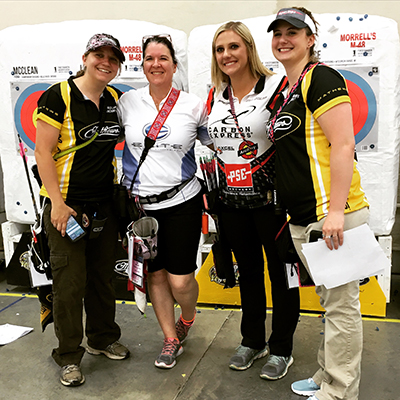 Qualifications. Head-to-head brackets. Amateur shoot off.
These were new phrases for the 2016 First Dakota Classic. Due to tournament growth over the years the First Dakota Classic was modified to fit the growing crowd.
"It was exciting for us," Bruce Cull, NFAA President, said. "I think the bracket tournaments and head-to-head cuts are the future of archery tournaments. It was a good learning experience for our staff and for the archers."
The tournament began with qualification rounds, either on Friday or Saturday, where all archers shot a Classic 600 round. Then, based on the archer's qualification score, they were either placed into head-to-head brackets, indoors and outdoors.
Going into the head-to-head matches on Sunday, June 12 some archers began shooting at 7 a.m. and others had a bye and shot later. Each division shot three ends of five arrows from 30 yards cub and youth divisions, young adults and adult divisions at 50 yards and Championship divisions at 60 yards.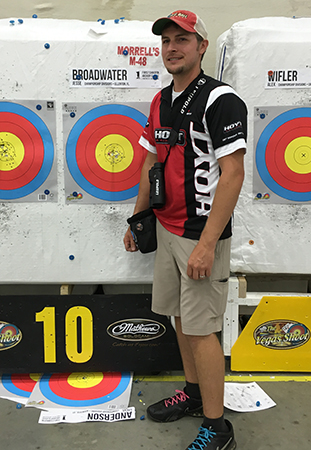 Throughout the morning the championship male freestyle class cut from forty-seven participants to only four standing. The top four archers left were Jesse Broadwater, Tate Morgan, Alex Wifler, and Braden Gellenthein. Broadwater defeated Morgan after a tie breaking final arrow to advance to the final two and Gellenthein defeated Wifler to advance to shoot against Broadwater.
Broadwater and Gellenthein tied after their three ends and it came down to one arrow. The arrow closest to the center would be the winner. The crowd was silent as the last two arrows hit the target. Broadwater's arrow was closer to the center and he walked away the champion.
"It was good to finally win," Broadwater said. "It was a little different today, we shot all day at 60 yards. If you don't flow completely and straight through your shot you're not going to hit the target at 60."
The championship freestyle women class dwindled from eleven to four top archers. Sarah Lance, Holly Larson, Paige Gore and Fiona Mcclean were left battling for the top prize. With a two-point difference, Paige Gore emerged as the champion.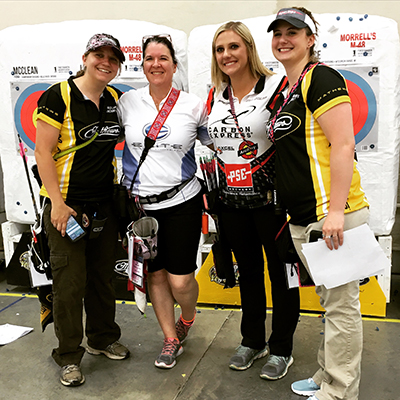 "This was my first time winning this tournament so it felt great," Paige Gore said. "It was nice to win with the new format too. In my mind before coming I knew I was going to have to shoot good since it really came down to the 15 arrows and I'm typically unlucky when to comes to head-to-head matches."
Sarah Lance took second place, Fiona Mcclean took third place, and Holly Larson took fourth place.
Another new addition to the First Dakota Classic this year was the $5,000 amateur guarantee in the $10,000 shoot off. All attendees, of the 3 Star Tour, were eligible to shoot off for the $10,000 grand prize. If a professional archer won the $10,000 shoot off, a guaranteed $5,000 prize was awarded for the last amateur standing.
Professional archer, Rodger Willet Jr., won the $10,000 grand prize and Wade McClanahan took home the first-ever amateur prize.
McClanahan, a 16-year-old from Colome, S.D., not only took home the $5,000 but he took home the young adult championship title as well.
"I knew I had to shoot the best I could, and that's what I did," McClanahan said. "It was fun and I enjoyed it a lot."
"We look forward to improving on this year's format," commented Cull. "We are excited to tweak what worked and what didn't work and really promote this new format. I am excited to see how much we can grow this over the next couple years."
The 2017 First Dakota Classic dates have yet been determined.