Stay up to date
NFAA

News
Aug 28, 2018
Special Series: Effective Gear for the Backcountry Bowhunter. Part 3: Sleep Systems.
This can be an expensive category, but it shouldn't be. Unless you're hunting sub-freezing or snow rich climates, in all other cases you should be using a synthetic bag. There are basically two types of sleeping bags: synthetic or down. Yes, there are tons of sleeping bags and various brands; some are now making hybrids and other things I'm sure I'm unaware of, but you will never catch me with a bag that is NOT synthetic with the exception of the sub-freezing weather. Some of the hybrids also claim to contain water repellent down. In my experience, anything that says water repellent, isn't waterproof. That category of bags, for me personally, is not one I would risk diving into when investing so much in a week-long or month-long trip.
Assuming a dry environment and fresh out of the package, the sleeping bag you choose will have a degree rating. These ratings relate to the temperature you'll be experiencing during your hunt. Over the years I've learned that one of the best policies to adhere, is to always get a bag that's rated 10 to 20 degrees colder than the temperatures you expect to experience. When selecting a bag you should notice something called an EN rating, short for European Norm, on the packaging. There will be at a minimum two ratings. A comfort rating and a lower limit rating. Some companies show a temperature gauge graphic that will help make the choice easier. These ratings are simply a guideline though, and you shouldn't expect those numbers to be conducive to your personal comfort. That's why I always roll with a slightly colder rating than I think I need. In other words, I choose a bag that will keep me warmer in colder environments than I expect to be in during the nights when sleeping.
Your sleeping bag is your safety blanket, literally. If it's not synthetic, and it gets wet...you're done until that thing dries out. Mountain weather is unpredictable and even with clear forecasts, storms can come out of nowhere. That can be a matter of life or death if you're stuck in a situation with a wet down bag when temperatures drop for an extended period of time. I've had to sleep in a wet sleeping bag more than once! It's not fun or comfortable, but you can usually survive. When I've had damp clothing, I've slept in a synthetic bag to wake up with relatively dry clothing, provided you're in a breathable bivy, under a tarp, or in a tent with good airflow.
Down bags are phenomenal in cold, freezing climates or where the temperatures plummet at night. Down bags are lighter in weight and more packable than synthetic bags. The key to keeping both bags in good shape, is to keep them from being compressed as much as possible, especially down bags. With both bags, the insulation inside will not perform as expected the longer it is compressed, more so with synthetic over down.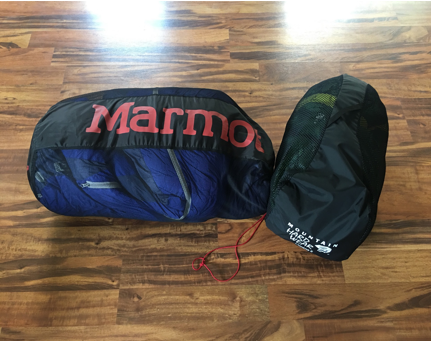 Always store any sleeping bag in a relaxed state, uncompressed. Usually sleeping bags come with storage sacks like these to help prevent loss of loft. Loft is the amount of airspace in and through the insulation. The less loft you have, the colder you'll get at night. That's primarily why most everyone uses some form of an air pad in their sleep system. So be careful with buying used bags from others, if they're generally stored for any length of time in a compressed bag, it's likely to never perform as intended again. I'm not a sleeping bag guru, but I know enough to keep me comfortable, lightweight, and packable when it comes to my choice of bag, depending on the hunt.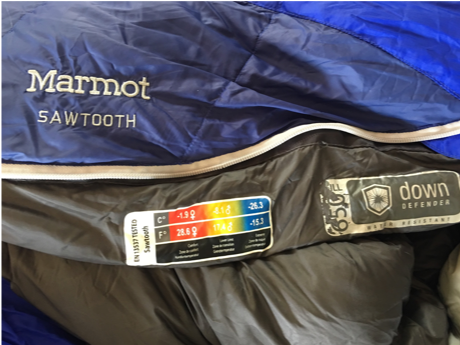 There are basically two types feathered insulation when it comes to down bags: goose and duck. For the most part, you'll likely be looking at one filled with duck feathers. At this point, this discussion gets too lengthy for me to begin talking about which types of duck feathers are used as fill. I think most of you reading this don't need to worry about the type of plumage used in your sleeping bag construction. This is where the fill power ratings you will see on down bags comes into play. My Marmot Sawtooth that I use in late September has a 650 fill. Basically the higher the number, the more feathers it takes to achieve the same rating as a bag with a lower number. This is also where you start to see pricing really deviate. Like everything else in the backpacking world, the lighter the bag with the same effectiveness, the more money you're likely going to fork out.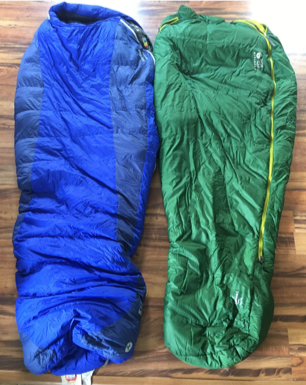 Same with synthetic bags of course. The lighter the bag, in general, the more you're going to pay. Pictured here is a Mountain Hard Wear Lamina Z, which is what I have used historically about 75% of the time. The green bag (right) has a rating of 22 degrees and is a synthetic bag. Versus the Marmot Sawtooth which is down and rated at 15 degrees on the left. Packability is a big concern of a synthetic bag. This picture shows the synthetic bag as substantially smaller than the down bag, which has a fairly comparable EN rating (I'll explain this in a minute) and both are in a relaxed state. But when it comes to compressed size, the down bag packs down considerably smaller. There are all kinds of insulation used in synthetic sleeping bags including Quallofil, 2 versions of Hollofil, Thermolite, 3 versions of Polarguard, Climashield Apex, and who knows what else is out there in the mountaineering world. The qualities of these vary so much that it takes a college degree to figure out all of the features and benefits. I'm going to make another generalization that will work for 99% of backcountry hunters out there reading this article. Look at your budget, then narrow the choice of bags by temperature rating. From there, look at the packed size of the bag, which will almost always correlates to the weight of the bag.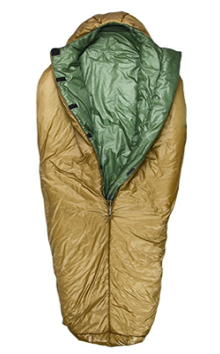 This year I'm taking the plunge into the Kifaru Slick Bag. Kifaru has yet to let me down in any category and after talking to several people on Rokslide.com, and listening to Aron Snyder from Kifaru lay out the benefits of this bag...I'm likely to sell both the Marmot Sawtooth and Mountain Hard Wear bags to cash in on the Slick 20 degree bag. It's using the Climashield Apex insulation in the company's famous RhinoSkin shell. The RhinoSkin shell is hailed to be one of the toughest exterior fabrics in outdoor apparel and Aron claims the shell is so tough that he's used it multiple times without so much as a ground cloth! Proclaimed to have the best warmth to weight ratio on the market, it may indeed be the last bag I buy, fitting all of my personal needs.
A few other things to consider. The zipper location of the bag, if you're sleeping in a small single person tent, and your door is on the left side of your tent and your zipper to your sleeping bag is on the right side of your tent. You'll likely find yourself cussing like a sailor each morning trying to get out of that thing, let alone if you wake up in the middle of the night and have to relieve yourself. Also, make sure it's roomy enough for a couple of reasons. As mentioned before, synthetic sleeping bags can help dry dampened clothes overnight. I like having extra room in my bags to make that happen for a couple extra pieces of clothing if necessary. And, if you're claustrophobic, a mummy style bag may not be for you, you might want to choose a more traditional square bag. Sleep is very important in the backcountry. Make sure you've taken all of these things above into consideration before purchasing a sleeping bag for your hunt!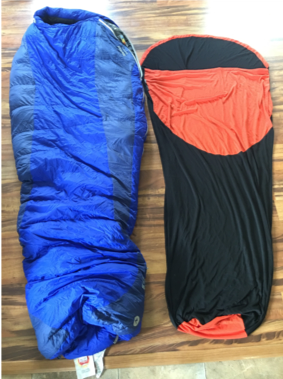 As a side note, you can also get a Thermo-lite Liner, like the one in this picture on the right next to one of my down bags. It's made by Sea to Summit and these are fairly cheap ways to increase the heat retention in your bag. They also help absorb some of the oils your body produces and makes cleaning your sleeping bag properly a little bit less of a chore (which you should avoid unless it's heavily soiled and do so as few times as possible over the life of the bag). So if you already have a fairly good bag, and don't want to pay for a whole new one, these are great options. I believe this one affords an additional 10 degrees of warmth, they can add up to 25 degrees but comes at an additional weight cost of around 12 to 14 ounces. You're better off buying the best bag you can if you don't already have one.
Unless you're tough as nails, you'll also need a sleeping pad. For me, if I know I'm headed into an area where I'll be sleeping on frozen or near frozen ground or snow, I go for a pad with a higher R value on the insulation of 4 or more. Each pad you look at should have an R value and generally will run from a value of 1 to 11. 11 being the warmest. Most adult men will be fine in September, in most mountain environments, with a 2 to 4 R value. In warm climates, you can easily get away with 1-3 rated pads. Most adult women generate less body heat and should opt for a R-value of at least 3, even in early September. Of course the bigger the R value, the heavier the pad.
You'll have to choose one of three basic types of pads: a closed-cell, self-inflating, or an air pad. There's such a wide array of pads that I'm not going to get into that here, but I will tell you that if you choose an air pad, make sure you take a repair kit (often included)! If you puncture or tear it, you'll suffer a long and cold night...not cool. The closed cell pads are generally too bulky for me, and the self-inflating ones are usually too heavy for my type of run and gun style of bowhunting. But that changes in late September and early October and I'll run Thermarest Trail Pro. Until then I generally carry an ultra light airpad like the Sea to Summit Ultralight. As an additional resource, here's a link that will help you choose the right pad for you by Outdoor Gear Lab.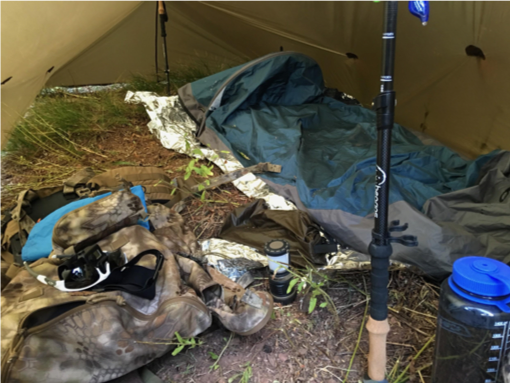 Lastly in the sleep system category is a bivy, if you're running a tarp setup (we'll get into those in part 5 of this series coming up next). A bivy is your lightest weight option for protection from the elements on backcountry hunts. For years I've relied on my Outdoor Research Alpine Bivy. This bivy is made of Gore Tex and has a hoop that keeps the fabric off my face at night. Think of a bivy as an exterior sleeping shell. There's not a ton of room in them, but without one, there are several times that I truly believe weather would have driven me off the mountain, if it were not for this thing. This bulletproof option is a little heavier than some, but I could toss and turn in it, change clothes in it, and even had room to charge my electronics overnight beside me with my Dark Energy Charger and still sleep comfortably. It kept the wind from cutting through me on cold winter storms, kept me dry in downpours and even kept me dry when my only option was sleeping in a deer bed on a steep mountainside once, full of water. It's an incredible piece of equipment if you can handle the thought of staying in the backcountry without a tent.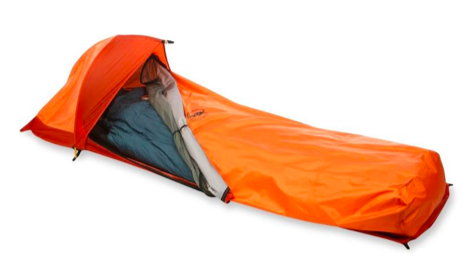 This year, I'm running a Big Agnes 3 Wire Bivy. It's similar to the Outdoor Research but has a stiffer canopy system, a different way of entering the bag (rather than from the head-space area entrance of the Outdoor Research), and it's made of e-vent fabric rather than Gore Tex. This may be a choice I'll regret, having never depended on anything but Gore-Tex to keep me dry, but it's come highly recommended by several other backcountry hunters I've talked too. Increased breathability in a fabric, generally also means increased opportunity for water to penetrate the fabric, and usually less of an ability to keep the wind from penetrating the fabric. But I'm hoping it's an upgrade to my backcountry gear in the early season heat and will be sufficient in the late season as well.
I love trying new items of gear and it seems like I keep making little gains here and there each year. Experimenting with new products each year affords me the opportunity to help others have better experiences through my successes and failures in all the areas of bowhunting. With a little luck, this article has helped you as well!
Photo Credits: Rod White, Kifaru International, REI (Big Agnes 3 Wire Bivy Picture)
-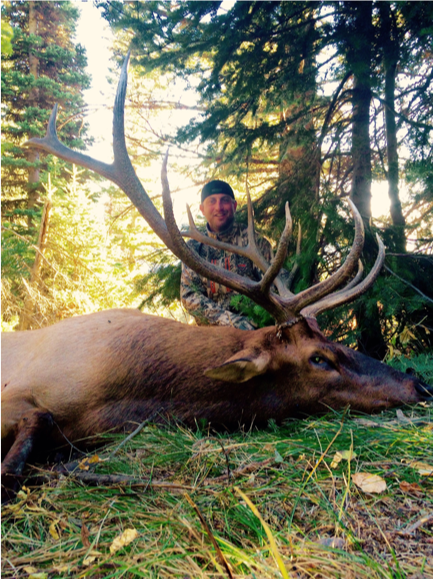 About the author: Rod White is an Olympic Archery Gold Medalist who has guided and outfitted in 5 states including Montana, New Mexico, Iowa, Illinois, and Minnesota. His career as a professional archer paralleled his career as professional hunter working for and contracted by major outdoor and bowhunting corporations such as Mathews, Inc., Gander Mountain, and Gore-Tex Outdoors to name a few. As a co-founder of the National Archery in the Schools Program (NASP), Rod trained and certified 33 Fish and Wildlife State Agencies to distribute NASP.
He now works for the National Field Archery Association (NFAA) as the Bowhunting Coordinator and provides both hunting and target archery content for their social media platforms. You can also follow him on his personal Instagram account by clicking here, OlympicBowhunter, and on Facebook by clicking here RodWhiteOlympicBowhunter.