Stay up to date
NFAA

News
Sep 09, 2015
Top 5 Health Benefits of Archery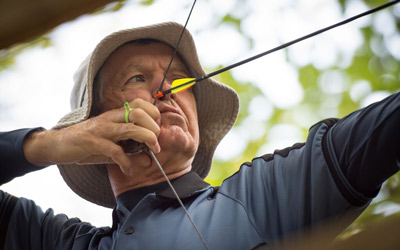 Are you interested in archery? Don't wait to start - start now! These are the top 5 health benefits you will gain if you join archery.
1. Improves your focus
Remaining focused during a shot is important for every archer. An archer must focus on their target, focus on their form, and ignore the distractions around them. By constantly being focused, it can help you focus and keep calm in high-pressure situations.
2. Improves your hand-eye coordination
Archery trains your hands to aim based on the feedback from your eyes. With continuous practice and repetition your coordination becomes better. The better coordination an archer has, the better the aiming.
3. Improves your upper strength
The arms, core, chest, and shoulders are all used when practicing a proper draw. Similar to lifting weights, an archer usually holds their draw for a couple seconds, which allows for tension in the muscles. Repetition of this action leads to muscle development.
4. Improves your social skills
Archery can be an individual sport or a team sport. When an archer competes in a tournament they are usually grouped together with other archers for scoring. Archers can get to know each other while they walk the course together. Teams are important in archer too. Working as a team and supporting one another is important for the success of the group.
5. Improves your confidence
Archery provides a boost of self-esteem to archers when they see their mental and physical skills improving during practice and tournaments.