Stay up to date
NFAA

News
Nov 14, 2014
10 Questions with Gary Cornum, Marketing Director of Easton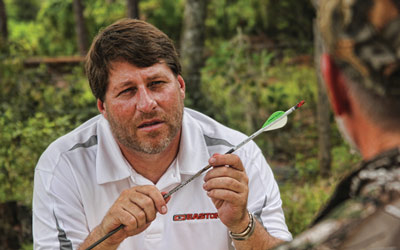 Gary Cornum, Marketing Director for Easton, sat down with friend Bob Robb to talk about where Easton is today in the world of archery and which direction the company is heading. When asked about aluminum arrows in today's market, Gary mentioned that they still play a huge part in the Easton arrow business. Most of the advanced arrow products are a hybrid of aluminum and carbon. Gary also stated that the small-diameter carbon shafts have been a trend since 2004. They have less wind drift while still carrying their kinetic energy downrange.
On the subject of target archery market, Easton thinks of it as a global market. In the U.S., 3-D and club is relatively small and bowhunting is what drives sales. However, globally, especially Europe, there is a lot more interest in target archery. The Olympics always bring more interest into archery as well as Hollywood movies like "The Hunger Games." Easton is known for being the premier product overseas when people are talking about arrows.
Easton also carries non-archery related items such as clothing. Gary talks about their Core 4 Element clothing that has features that benefit hunters. The Core 4 Element is built around comfort. For example, kneepads have been incorporated into many of the pants. This clothing line is meant as a hunting garment with technical features, not a technical garment adjusted for hunters that are not user-friendly.
Gary expresses that the key to the future of bowhunting and archery is getting the youth involved. Easton is a strong advocate of the National Archery in School Program and they plan on continuing to keep making archery a fun sport.
To get the full article "10 Questions with Gary Cornum" click HERE.