Stay up to date
NFAA

News
Dec 08, 2017
2018 WAIC Call for Volunteers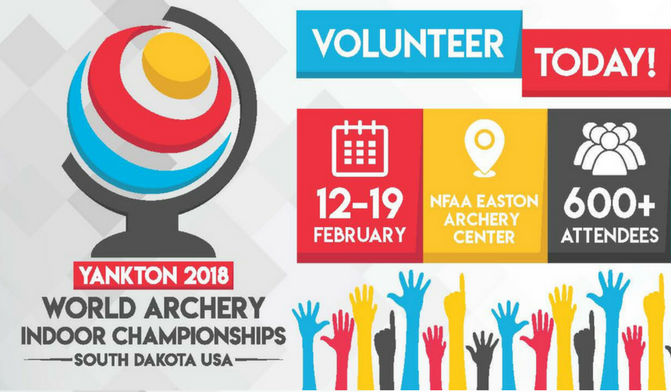 The 2018 World Archery Indoor Championships is a volunteer opportunity unlike any other. The event itself takes months of planning, weeks of preparation, and many talented individuals to make the magic happen. Over 300 high-level competition archers from over 30 countries will be traveling to Yankton South Dakota in February to compete in this prestigious event- and you can be part of this unique and exciting atmosphere.
Anyone who has competed in an NFAA tournament knows that this location is the best place to meet up with old friends and make new ones. Yankton South Dakota is home of the National Field Archery Association Headquarters and "Archery Capital" of the USA. Many professional competitors enjoy talking to novice archers, and are ready to share tips and advice on the sport. Volunteering during this event allows you to interact and learn about different cultures from around the world while sharing archery as a common ground. If you are interested in learning more about archery, this is definitely the place to be.
As a volunteer you will receive a free t-shirt and admission to watch the event during the week. In addition to this, your positive impact in Yankton will leave a lasting impression in the community and with our visitors. Not only can you say you attended the biggest archery event in 2018, but you helped make it a success!
No archery experience? No problem! There are hundreds of volunteer shifts available that do not require you to have knowledge of archery. Each position has a description including the shift time, location, and physical requirements. Volunteering shifts are available from February 10th through 19th, 2018. There is truly something for everyone.
Ready to lend a hand? Visit yankton2018waic.org to sign up and learn more about the 2018 World Archery Indoor Championships.