Stay up to date
NFAA

News
Aug 02, 2014
Archers Enjoy Challenges On Ranges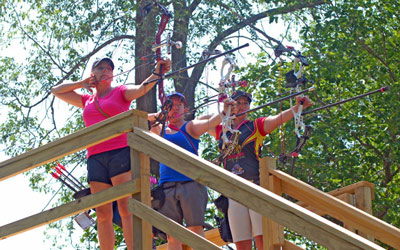 BY JEREMY HOECK, jeremy.hoeck@yankton.net
Click here to view full article.
Elliott Stephens would be the first to tell you that archers seek a challenge.
And so, when faced with a mostly flat course Saturday at the fourth day of the NFAA Outdoor National Championships in Yankton, Stephens and his fellow archers were in for a treat.
Two of the 28 targets on the Badlands range - located next to the KOA campground - featured raised wooden platforms from where archers shot arrows, as well as a handful of other targets with interesting topography.
"These are generally flat courses, but they still did a nice job with it," said Stephens, who lives in Minneapolis, Minnesota.
Because of the location of the Badlands range, as well as the two other redesigned NFAA field ranges, near the Missouri River, certain features were necessary, according to NFAA president Bruce Cull.
"The whole plan was to use the river channel," said Cull, who pointed out the Missouri River created close to a 10-15 foot embankment near the ranges.
"The challenge was that the area down there was pretty flat."
On the Badlands range, target No. 12 features an approximately 10-15 foot high platform, which had distances as far as 45 yards from the target. And on the No. 27 target, a wooden platform stands approximately 20-25 feet tall, with a distance as far as 80 yards.
Shooting from a higher location down to a lower target presents understandable challenges, according to Tim Wilson of Minneapolis.
"It's always interesting when you have to cut yardage," Wilson said Saturday. "The sign says one thing, but you may have to adjust for something else."
Put another way: Shooting from a high platform down to a target 70 yards away means an archer would have to compensate - much the same way a golfer would "club up."
Shooting from a high distance is no different than shooting from the top of a hill, Cull pointed out.
"But this adds an element of new angles, plus there's a novelty part to it," Cull said. "They've never shot from something like that. It gives them something new."
Still other targets on the Badlands range had other features, Wilson said.
"Some targets are sunken in a little; not perfectly flat," he said. Target No. 22 at Badlands, for example, had the area where archers shoot from sunken in a couple feet.
"They still tried to give you a challenge."