Stay up to date
NFAA

News
Nov 01, 2016
Bitner Dedicates 65 Years to the NFAA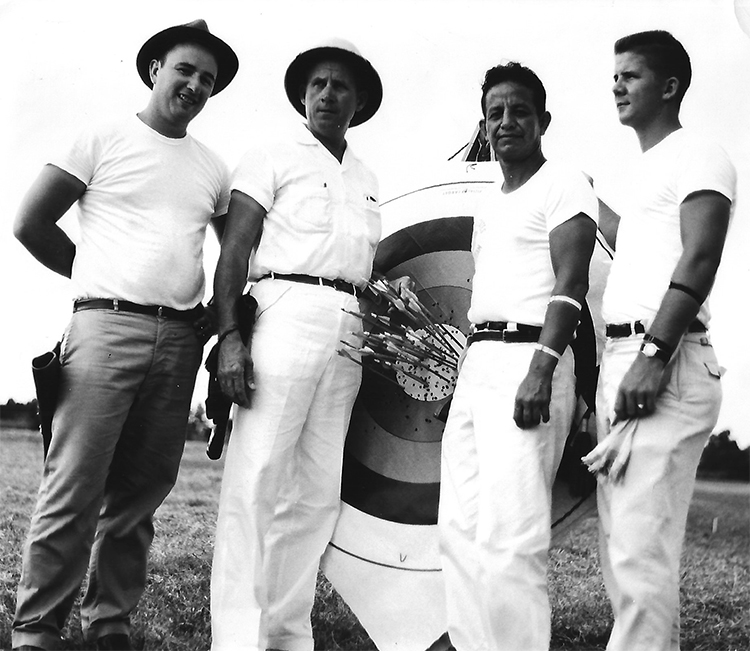 Sanford, MI - Robert M. (Bob) Bitner was introduced to archery at age of 14 by his Scoutmaster, Art Simpson. He directed Bob to an archery shop in downtown Chicago, where his first bow was purchased in September 1951. His first bow was a Bear bow with aluminum laminate in the limbs. The shop was owned by George Leavitt. Early on, Mr. Simpson was also his archery coach.
Among his first coaches were Bill Perry and Ed Hintz, members of Gage Park Archery Club, who were instrumental in his early training. Right from the beginning, he shot lots of local competitions as an Intermediate recurve shooter. Frequently his indoor scores were higher than the adult men. By the Illinois Field/Hunter championship that year, he moved up to the adult division and won that tournament. The field/hunter round at that time was all unmarked.
In 1958, Bitner shot the first money shoot in Grayling, MI, it was sponsored by Bear Archery. He placed 2nd. The money shoot was held after the NFAA Field Nationals also held in Grayling, MI where he placed 7th (highest attendance ever at 1460 shooters).
Also in 1958, Bob won the NAA Target Nationals in the Senior Division - started the tournament as a 20 year old and turned 21 on the final day of completion. During the tournament, he broke five records: Single York, Double York (by 100 points exactly), the 100 yard distance, 80 yard distance, and Grand Total. He also had one miss at 60 yards. At that time, he was the youngest winner of the tournament. He still has the scorecard.
In 1967, Bob shot the first-ever 300 recorded at a major indoor tournament at the Las Vegas Open (The Vegas Shoot). He was shooting a Golden Eagle bow made by Root Archery. This was his first time ever shooting a perfect score. At the time, he was a bowyer for Root.
In the early/mid-70s, Bob was president of the Michigan Archers Association for four years. It was during the controversial time of releases and compounds being introduced.
In 1984, both Bob and his wife Carol worked at the Olympics held in Los Angeles, CA. He was also accepted to work the 1996 Olympics in Atlanta, GA, but events made it impossible to participate.
In 1988, Bob was the NFAA Pro Representative.
In 1994, Bob was hired by Mr. Spigarelli to travel to Italy, where he spent eight days helping them learn compound bow tuning and set up. He was referred to Spigarelli by Dave Barnsdale.
Bob shot against pistol shooters three times: Arkansas, where he beat all the state police shooters scores; the team did not. He also was on teams at Mid-Michee Bowmen, and Big Rapids, both located in Michigan.
Bob taught the NFAA Coaches classes in Darrington, WA.
Bob is a life member of the following archery organizations:
? Columbus Park Archery Club, Chicago, IL area
? Mecosta County Rod & Gun Club, located in MI
? Mid-Michee Bowmen archery club, located in Midland, MI
? Michigan Archers Association
? NFAA
Archery companies he has worked for include: Root Archery (2X), Ben Pearson, Hoyt, Bear Archery (2X), Barnett International. Following that, he had his own bowstring business from 1991 to 2009.
Since 2000, he has been involved in archery organizations at state, association, and club levels - as a club rep, association rep, been on committees at state level, and club board of directors.
Some bits of shooting advice he would give:
? No tournament is over until the last arrow is in the target and scored.
? Shoot the tournament same as you shoot in practice.
? In practice, shoot form, not just unconsciously shoot arrows.
? Have fun.
Some key memorable moments in his NFAA years:
? Shooting in the first Bear money shoot in Grayling, MI in 1958 after qualifying in the 1958 NFAA nationals. 1460 archers participated in those nationals.
? Got to meet and shoot with Rube Powell, 5 time NFAA champion.
? Won the 1954 Illinois State NFAA field championship in the Mens Division as a 16-year-old.
? Started dating fellow archer Carol Bergeron at the NFAA field Nationals in 1978 in Aurora, IL, and have been married to her since December 1978.