Stay up to date
NFAA

News
Sep 12, 2016
Bowhunting Adventures: Rick Dorey
Rick Dorey is a well-experienced bowhunter. He has locally hunted in Michigan, Montana, Nevada, and Texas and even crossed the waters to hunt in Australia, Greenland, and South Africa. In honor of his return trip to South Africa later this year, Rick thought back to the first time he went to South Africa in 2003.
Being a member of the Safari Club International (SCI) has its perks. Rick managed to take advantage of an auction to bid on possible hunting trips. One trip in the auction was a five-day hunting trip in South Africa.
"I had never been to Africa before," Rick said. "And at that price, how could I turn it down?"
Rick purchased the trip and in a few months he and his wife, Corrine, were off to South Africa. The travel to South Africa was very simple for Rick and his wife, however for the couple they travelled with it was a little tougher.
"My friend hunts with a rifle so it was a lot harder for him to get through customs than me and my bow," Rick said.
Their guide, Willem, for the five days picked them up at the airport and brought them to Johana's Burg where they stayed at the Afton House for the night. The next day they travelled to Melton Wold in Victoria West.
Since the area is familiar with hunters with guns, Rick's friend had a much more simple experience hunting. The area where Rick was hunting was not accustomed to bowhunter so it did not have concrete blinds or other spots for bow hunters, which created a problem for him.
On his hunt for springbuck Rick had to squeeze into an aardvark hole in the ground. While he was sitting there he felt the earth start to tremble as if there was an earthquake. He peaked his head out of the hole and saw a heard of springbuck charging towards him. The springbuck were running towards the water hole and were jumping over Rick's hiding spot.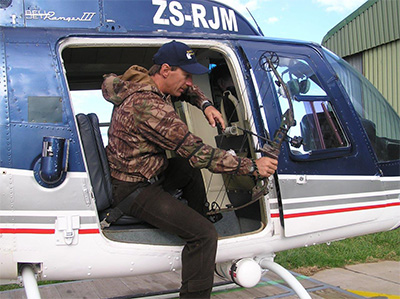 "If I had stuck one arrow straight up I would have gotten plenty!" Rick said.
Rick went with a group of hunters to hunt for kudu. The group tracked the kudu down to a forest where all the animals entered. Half of the group went into the forest to get the kudu, the other half waited outside the trees. Rick was patient and shot a kudu from 45 yards on his first shot.
One of the advantages of hunting in South Africa was being able to hunt a different variety of animals.
Rick walked away with a springbuck, kudu, common blesbuck, and white blesbuck.
"One of the great things about hunting out of the country is the animal doesn't go to waste," Rick said. "The natives get to keep and eat the meat, while I get to take my animals with me."
Rick and Corinne will be leaving for their second trip to South Africa together in August.