Stay up to date
NFAA

News
Jul 30, 2015
Christmas Gift Brings Oklahoma City Girl To Outdoor Nationals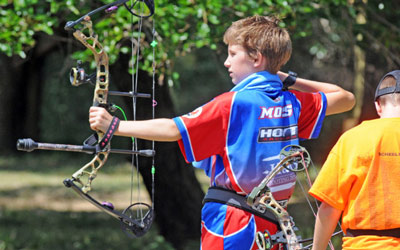 BY JEREMY HOECK, jeremy.hoeck@yankton.net
Click here to read full article.
Eight months ago, Kaylee Moss had no visions of competing at a national archery tournament.
The 11-year-old from Oklahoma City began shooting a bow in January after receiving one as a Christmas gift.
Since the beginning of the year, she has competed in three field tournaments, including the National Field Archery Association (NFAA) Indoor Nationals in March in Kentucky.
The next major tournament on the NFAA circuit was the Outdoor National Championships, which kicked off Wednesday in Yankton.
"Right now, we're just trying to expose her to it," said Kaylee's mother, Mindi, who followed her daughter during Wednesday's 28-target round. "For her, it's all new.
"And really, for all of us, this is new."
Kaylee has been a study in quick-learning, Mindi and father, Travis, said.
Since picking up the sport six months ago, Kaylee has consistently practiced at an archery range near the family's home - the same range where her father, an avid bowhunter, works.
"She puts in a lot of time; almost every day," Travis said, between target stations Wednesday. "She learns easy; very quick."
And Kaylee has found quick success, as well.
She took third place in her division at the Oklahoma state tournament, and earlier this year held a first-place ranking.
"It just clicked with her," Mindi said. "We've heard from people at our range that,'She's definitely special.'"
Even while hobbled.
"Even though I couldn't walk much, it was a lot of fun," said Kaylee, who has her left foot in a boot.
Asked how she liked the Outdoor National Championships, even after one day, Kaylee had positive feedback for the new NFAA ranges.
"This is very nice, compared to where we shoot back home," she said.
Kaylee, and her fellow archers, will have plenty more experience getting to know the new ranges.
The 5-day NFAA tournament began Wednesday and continues through Sunday at the new ranges, located behind the Easton Archery Complex.
"We saw that this tournament was in South Dakota, and we have friends in Nebraska, so we thought,'Why not?,'" Mindi said.
"Now we can be the tourist family, stopping to take photos everywhere."