Stay up to date
NFAA

News
Aug 01, 2021
Past Councilman Spotlight: Tim Austin - Southeast Section
The National Field Archery Association (NFAA) Councilmen are elected from each of the following sections of the United States: the Northwestern, Southwestern, New England, Mid-Atlantic, Mid-Western, Great Lakes, Southern, and Southeastern. Interested in getting more involved in the NFAA? Contact us at info@nfaausa.com for more information.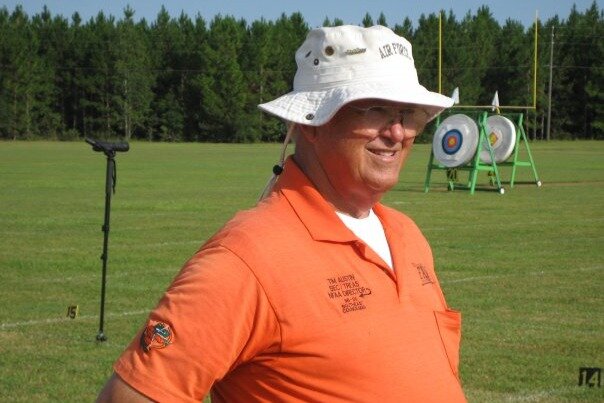 Tim Austin was the NFAA Southeast Councilman until his passing in 2022. He was married to Barbara with two sons and three stepdaughters and is a Retired Lieutenant Colonel in the US Air Force. Tim is a strong, intelligent, well-educated, and experienced man, and in his words: "God's gift to my wife…"
His archery career consisted of many different experiences including National Senior Games Competition Manager, Florida State Senior Games Archery Chairperson, Florida Sunshine State Games Archery Chairperson, IFAA World Field Championship Event Management, IFAA World Bowhunter Championship Event Director, line judge in multiple Vegas Shoots and NFAA National tournaments, volunteer work at the Atlanta Olympic Games, NFAA Sectional Championships manager, All-State Archery Association Championships manager, NAFAC manager, 2005 World Target Team Trials Manager, and designing several competition Field Archery Ranges including 4 ranges at NFAA HQ.
Tim's archery memberships go back 60 years making him a Life Member, of the NFAA, Florida Archery Association, Archery Association Europe, and Gator Bowmen as well as a member of USA Archery.
He was the Secretary/Treasurer of Archery Association Europe from 1971-1972 and has been the Secretary/Treasurer of Florida Archery Association since 1973. TIm was the NFAA Florida Director from 1998 to 2005 when he became the NFAA Southeast Councilman. He is also currently the Gator Bowmen President and Secretary/Treasurer since 2002.
His archery experience expands even further as a NAA Regional Judge, 1972 IFAA European Field Archery Champion, and in 1972 receiving the NFAA Medal of Merit. Other awards that Tim has received include: 2009 NFAA President's Award, 2010 IFAA President's Award, and 2012 IFAA Medal of Honor.
Tim's son Oliver Austin is now the current Southeast Councilman.