Stay up to date
NFAA

News
Aug 02, 2014
Duo Proves Archers Can Start Sport At Any Stage Of Life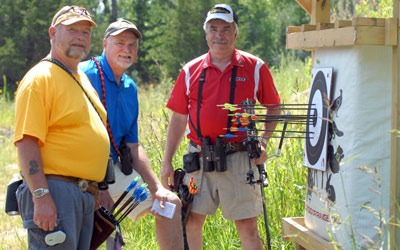 BY JEREMY HOECK, jeremy.hoeck@yankton.net
Click here to read full article.
Though 23 years apart in age, Susan Dillman and Heather Gore are proof that archery can be something a person can pick up at any stage in life.
The two female archers may have started shooting for different reasons, but the point is, they say, they fell in love with the sport.
"The passion came back," Gore, a 26-year-old from Grass Valley, California, said Friday during the third day of the NFAA Outdoor National Championships in Yankton.
Gore, who comes from an "archery-loving" family, said she originally started shooting a bow at age two, but "put it away" for 10 years.
Her brother's love for the sport played a key role in re-introducing her to it, she added.
And then came the NFAA Outdoor Nationals last summer in Darrington, Washington, which proved to be a big motivator for her, Gore said.
"After that, I really wanted to improve," she said.
In the case of Dillman, a 49-year-old registered nurse from Gettysburg, Pennsylvania, she started shooting to spend more time with her husband - though she joked you typically hear the opposite when an athlete retires.
Her husband was shooting with friends back home, and Dillman "wanted to do more things with him," she said.
"He shoots recreationally, but I'm very competitive," Dillman said. "Right now, I'm still learning the ins and outs."
Dillman, who has been shooting for three years, said she likes national tournaments like the Outdoor Nationals because it provides her with invaluable experience and exposure.
"It's the only way you get better," Dillman said.
Though she may be relatively new to the sport, Dillman does provide one asset that her fellow archers aren't likely to boast.
"I always tell people,'You're safe with me around,'" Dillman joked, referencing her position as a nurse.
The NFAA Outdoor National Championships continues today (Saturday) and concludes Sunday with an awards ceremony at 3 p.m. at the Yankton Easton Archery Complex.
Michigan Pro Headed To College
Emily Bee has been shooting archery since 2002, and has competed in a number of prestigious tournaments since then, but she will soon take her talents to the collegiate level.
Bee, an 18-year-old professional archer from Howell, Michigan, will later this month attend Michigan State University to compete in archery.
"I'm excited that I can still shoot and represent a Big Ten school," she said following her round Friday afternoon.
A number of colleges across the country sponsor club archery (such as Mount Marty College, Dakota Wesleyan and Wayne State College in Nebraska), but even fewer offer archery scholarships.
Bee joked that she visited nearly every one of those schools.
Among those schools she visited were Texas A&M, University of the Cumberlands (Kentucky) and Emmanuel College (Georgia).
Bee, whose father and brother are also in Yankton for the NFAA tournament, said she didn't have much experience on a field course, but said she enjoyed the Yankton ranges.
"It's pretty amazing here," she said.
Colo. Archer Headed To Dakota State
Within a year or two, Jolie Baty of Englewood, Colorado, may be a student at Dakota State University in Madison.
Baty, an 18-year-old high school graduate this spring, plans to spend 1-2 years at a community college in Colorado before transferring to DSU to pursue a Master's Degree in teaching.
"I just liked the small town feel up there," Baty said of Madison.
Baty, who has been shooting archery for four years, already owns three Colorado state championships as well as a national 3D title.
Feedback On Updates'Positive'
The Outdoor National Championships have served as the first major archery event to utilize the three new ranges, as well as the other amenities on site at the NFAA complex.
Major construction, which totaled $1.2 million, on the site was done in phases, including dirt work (six million pounds of dirt) and a comfort station (with concessions, etc.). Other projects in the area included a picnic area, with bow racks, course maps and signs for each target.
"The feedback on the ranges has been overwhelmingly positive," NFAA president Bruce Cull said Friday. "The comfort station is the pinnacle for us."
Members of the South Dakota National Guard helped move dirt and build the comfort station, with work done in time to host the Outdoor Nationals and next week's international field tournament.
The comfort station, partly because of its centralized location, is probably the thing people notice right away, Cull said.
"That part is so cool, because it added so many things for us," he said. "Safety was a big thing."
National Guard members constructed embankment berms to prevent arrows from flying into the adjacent parking lot, Cull added.
?Like A Second Family'
As she stood with three other female archers following their round Friday, Jessica Button joked that she leads two lives - her normal life and her archery life.
Thing is, Button was rather serious.
"It's like a second family," said Button, a 24-year-old from Cottage Grove, Wisconsin, a suburb of Madison.
Button comes from a family that takes archery serious, she said. Her father, Jeff, and brother, Danny, are avid shooters.
What about mom?
"She shoots probably twice a year," Jessica said, smiling. "I think she just likes watching us do it."
Jessica, who works at a sporting goods store back home, said she is in week two of what she calls an "archery marathon."
Before arriving in Yankton, she had previously shot in Las Vegas, Ohio, Kentucky and Iowa.
"It's a lot of traveling," Jessica said.