Stay up to date
NFAA

News
Jul 16, 2018
Elk Hunting for Rookies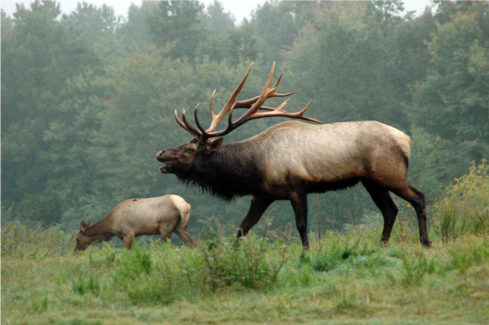 Article by Rod White, NFAA Bowhunting and Event Coordinator. Rod is an Olympic Gold Medalist and Professional Archer. Subscribe to the NFAA Youtube Channel and watch NFAA Talks with Rod White at: https://www.youtube.com/user/NFAAUSA/feed
Bowhunting elk can be one of the most ridiculously exciting and rewarding hunts you may ever experience as a bowhunter...and it can be one of the most intimidating, humiliating, frustrating, and disappointing hunts you may ever experience. Especially if you're doing it all on your own, with no guides, no experience, and no private land access. Fortunately, you're reading this blog! By the end of this blog, you won't have all the keys to tagging out on your first big bull, but you'll have a lot of the information that's critical to an enjoyable, safe, exciting, and rewarding experience. Before you read on, I cannot stress enough the importance of learning all you can before hitting the field.

Online courses such as Corey Jacobsen's University of Elk Hunting, at www.elk 101.com, is an invaluable resource for both rookie and experienced elk hunters and is possibly the best $99 you will EVER spend. There you'll find similar information as you're about to read, but with a level of depth that took years for Corey and his team to compile. No piece of gear, that I can think of, will help you succeed faster than logging into the computer and going through his online course. Best of all, it's got an incredible amount of footage and video that will help you understand way more than by simply reading.
I'll be the first, but probably not the last person to tell you, that the amount of land that encompasses potential elk country is enormous. The success rate for elk bowhunters for any elk, in states offering over the counter tags is, generally speaking, less than 10%, and in some states and zones, as low as 3%...including residents that live in elk country. So how do you beat those odds? I believe that beating those odds lies in the preparation for your hunt. Starting with where you choose to hunt. Since this article is focused on public lands, in states that offer OTC (Over-the-Counter) tags, you're options for states are pretty limited. There are several states that do offer opportunities at cow elk only that I may not have included in this list, but your primary states with available tags that allow you to take a bull with a bow are primarily Colorado, Idaho, Oregon, and Washington. Some states, like Montana, rarely sell out of elk only tags and USUALLY have some leftover elk only tags during the summer months, but if you're looking for a combination, elk and mule deer hunt, you have to go through the draw process in Montana. For the purpose of this article, I'm going to limit what information I can give to you based only on my personal experience in all of these states. There may be specific areas of states that are phenomenal for a number of reasons, but I don't have time to cover all of the above states.
I personally believe, that if you are not in what you consider to be in excellent shape, or at the least, in-shape, you should avoid high altitude environments. That said, one of the states with the highest altitudes that you will find elk in, is Colorado. Not all of Colorado of course has elevations with elk in excess of 9000 ft, but a lot of your best areas include altitudes well in excess of 12,000 ft. That's also where you'll find the least hunting pressure provided there is no easy road access in the area you may consider. As a guideline, Colorado has more opportunities for non-resident elk hunters, with higher numbers of elk available than any other state. It's also where I suggest most first time bowhunters head to for their first trip. I can't stress enough that if you've never harvested an elk, the taking of a cow or even a calf, is an incredible accomplishment for a rookie. Colorado is an excellent place to learn with lots of public access and larger herds than in most of the other states you will explore. The downside to Colorado, with the exception of a few draw only areas, is the quality of bulls you will encounter. A lot of that is due to hunting pressure, and that's something you will most likely experience in any state, but Colorado by far has the most in my experience.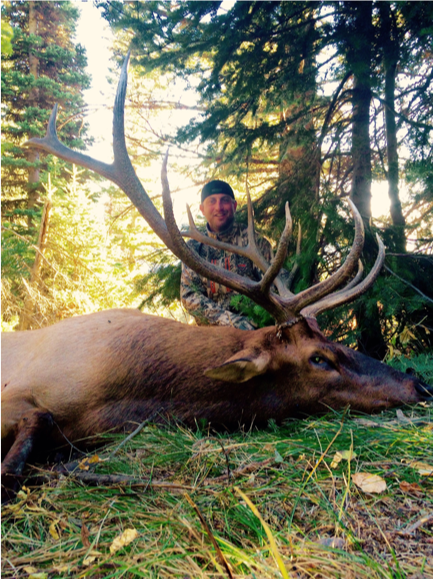 One of my favorite states that I continue to hunt each year is Idaho. Idaho is also a state that has incredible access by motor vehicle. Because of that, there's a lot of pressure, so be prepared to spend a lot of time learning what roads, trails, and access points allows motor vehicle use and which do not. Speaking from experience, I would also tell you that Idaho does not do the best job policing those policies as compared to other states like Montana. It's also important to note that some trails are open and closed seasonally in all states, so if you're doing your homework by e-scouting with google earth, be sure to check with the Idaho Fish and Game for additional information in areas you choose. Idaho also has a great resource for planning your hunt with the Idaho Hunt Planner. If you choose to hunt Idaho, familiarize yourself with this incredible website. Some of the other states may have similar tools, but Idaho is one that I've spent some time on and can tell you it's definitely a very valuable resource. For the most part, Idaho has plenty of areas also that are lower in elevation, finding elk in the 5000 ft range and lower is certainly possible on public lands and some great hunting can be found at those elevations so from an ease of access and physical fitness requirement, Idaho is a great option. It's also the state that I feel has some of the best trophy potential of the OTC states. In Idaho however, a good bit of research is necessary depending on which unit you decide to hunt. Idaho is not a free for all state where you can hunt anywhere you want, you are restricted by specific zones that you declare at the time you purchase your tag. Again, the idaho hunt planner will help you with the boundaries and unit qualities. Depending on the zones you choose, parts of Idaho have some very rugged country and can vary from desert like areas with low oakbrush and sage to wicked elevations and terrain, so again, be sure to pick your zone carefully. Idaho does not have unlimited tags, but generally tags do not sell out except in some specific areas. So be sure to secure your tag before jumping in the truck and heading West.
Idaho has tremendous trophy potential compared to the other OTC states and most of that trophy potential lies along private and non-huntable ranches. If you decide to chase bulls in areas like this, be forewarned that downloading and purchasing the OnX Map App is essential! With the OnX map downloaded to your phone, you can easily see borders of private lands and even landowner names in most cases. OnX uses state provided data from courthouses and assessors to draw it's information from, so be aware that although it's accurate a very large percentage of the time, it can be wrong. But in general it will keep you safely out of trouble from getting too close to private property and other boundaries. A very important consideration when hunting in the West are fence lines. They don't always indicate property lines, so relying on fences to delineate property lines can find you on private property easily. Just like the rest of the country, know your boundaries! Even with OnX maps, I still try to get a hold of paper maps well in advance. It's awesome to think we can rely on electronics such as GPS's and our cell phones, but those devices can die or fail us. Get maps of the areas you intend to hunt and know how to use them!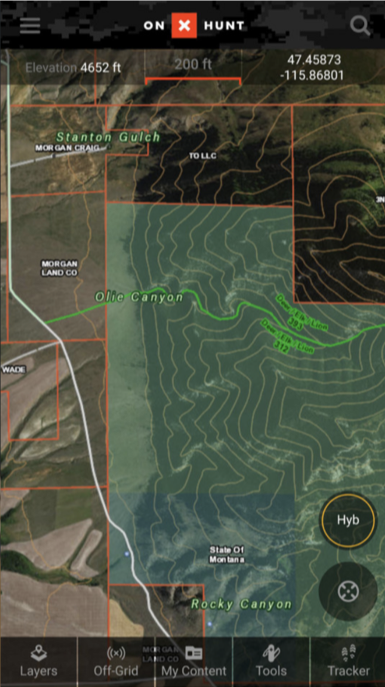 Just like in most other elk states, you'll also find some of the best trophy potential in Idaho in hard to reach backcountry. This is for those of you that are in great physical shape. However, remote backcountry can be unforgiving and dangerous, especially if you dare to solo hunt. Although I hunt by myself the majority of the time in the backcountry of Montana and Idaho each year, there are elements that demand I carry essential items I wouldn't bother with on most hunts. Severe weather, grizzly encounters, unforseen injuries, sketchy rockslides, and many other dangers can exist in certain areas and demand that you prepare for the worst with extra gear and precautions. Carry a compass, know how to read a map, carry pepper spray in grizzly country, take a first aid kit, let your friends and family know where you will be, and purchase a PLB (Personal Locator Beacon) and keep it on you at all times. Cell service is non-existent in most of the areas I hunt and likely will not exist where you hunt. If you can afford it, a satellite phone is a phenomenal safety line and I believe they can also be rented.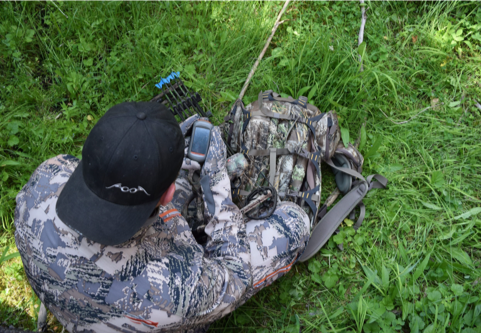 Back to finding elk. In general, I find that if I get two miles from most trailheads, campsites, and motorized roads, I can get into some good elk hunting. You can certainly find some elk close to these areas, but in my experience they are hunted so much that they remain very quiet. And, they're usually immature animals. You'll also find that if you head in to distances in excess of 6 to 8 miles where possible, you'll likely run into an outfitter or two. My suggestion is that if you are looking for an extreme backcountry hunt, hunt the first two weeks of the season, most outfitters are not yet fully operational with full camps and weather is generally tolerable for most hunters if you're not used to dealing with mountain storms. But during the last two or three weeks of the season, don't be surprised to hike in 12 miles only to find a horse camp, where you'd never expect it, full of guides and hunters. There can be just as much pressure in those environments as there can be close to campsites and trailheads. During the majority of most rut activity, in mid to late September, try to find hard to get to areas that other hunters would be deterred from and inside of that 6 to 8 mile range. These may include difficult areas to access because of rivers, steep terrain, and higher altitudes. Elk are very much UNLIKE whitetails in that they can cover several miles between bedding and feeding areas daily, and think nothing of packing up and heading out of pressured areas never to return for the remainder of the season. But they are also wizards at finding areas you would least expect them to be in during the later parts of the season. Being mobile and adaptable are essential skills you will have to have when hunting on public grounds.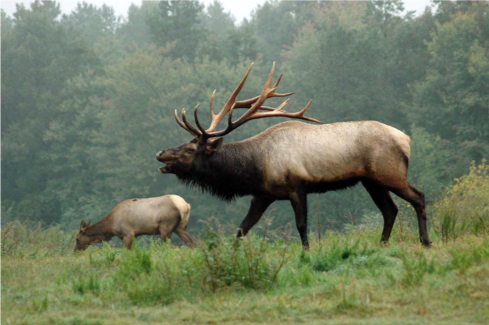 For a unique experience, consider the states of Oregon and Washington, home of both the Roosevelt (pictured here) and of course the common Rocky Mountain elk. The Roosevelts are found on the coast and western slopes of the rockies. They sport larger bodies and smaller antlers compared to their cousins. This is where I would suggest to those of you that are not in the best of shape head to if you're interested in a lower elevation hunt, but that doesn't mean these hunts are easy. In many cases you can hunt these elk in elevations lower than 1500ft., but the slopes can be straight up and straight down. Access to them can be tricky from a private vs. public lands perspective but you also get the bonus of lots of logging road access. Oh yeah, and there's one item you'll be needing with almost 100% certainty...good quality rain gear!! These elk feed in clear cuts regularly and bed in some of the densest cover you can imagine. Which also makes it a great hunt for those of you who are just learning to bowhunt, there won't be much of a temptation to test your long distance abilities, 20 yards can be a long shot in these environments!
It's been a long time since I've hunted for Rocky Mountain Elk in Oregon. I killed one of my better bulls in the Strawberry Mountains, but that was one of the easier hunts where I've chased bulls. The elevation there ranges from around 4000 to 9000 ft. At the time, most hunters said that finding elk was rare in that area, but I found it to be the opposite. Maybe I was just at the right place at the right time, but that's a great example of doing your homework in a state before you commit to a specific zone or unit, if necessary. The statistics were there to support that elk were present when I did my research. If you decide to hunt Oregon or Washington, there are VAST amounts of elkless lands. In my opinion, partly because it's been a very long time since I've hunted there, but mostly because of my experience spending immense amounts of time in elkless habitat, I would spend time in those states only if you had inside information from locals or relatives that regularly hunt those two states.
Another resource that's very helpful, especially if you're new to elk hunting and have no idea where to start (including elk numbers, access, harvest statistics, and trophy potential when choosing where to hunt) is gohunt.com. I personally have not found the trophy quality to be extremely accurate in the unit descriptions, however the info that they have from state agencies in regards to success rates and access can be very valuable. Note that there is an annual subscription fee to access most of their information that runs $149.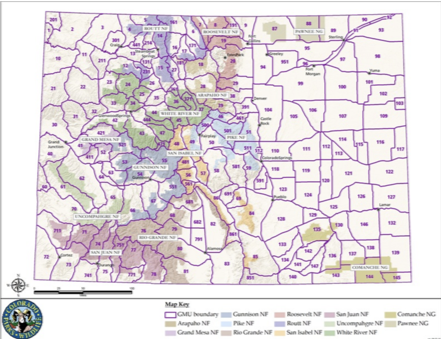 After you have nailed your OTC state, verify the areas and units where your tag may or may not be valid. Just because you acquire a Montana leftover general tag for example, doesn't mean there aren't restricted zones. Same with Colorado and I believe all of the other states, I'm sure. There are large areas that are draw only, even though it is a general tag. Antler restrictions may be in effect in certain zones and units that will narrow down areas or zones in the state that you can or cannot hunt in depending on your harvest or trophy goals as well.
Once you are feeling comfortable with the environments you're planning to hunt within a state, such as elevation, vegetation, and terrain, you can begin to really break down the areas that you want to hunt. Now you'll need to verify if there are even elk in the areas you've narrowed down. When you're 500 miles or more from those areas, you're forced do your best to verify that anyway that you can. There are way too many resources for me to list here that you can dig up for almost, if not all of the states, when it comes to verifying elk are present.
Let's take Colorado for example, in this link, you'll find a copy to the 2016 Elk Harvest Statistics. Yes this is from 2016, but compiling estimates and awaiting hunter reports are incredibly time consuming so most of the information you'll find will likely be from 2 or 3 years ago. This report shows estimated hunter success rates for varying units, weapons, and gender. It will also tell you, at least when that report was written, what type of hunter pressure was in that unit that year. And those seem to stay fairly consistent. So you can look at a unit, look at the success rates, and should feel pretty confident in the presence of elk in a specific area. You'll notice that in Colorado, the success rates can run way higher than just 10%, the 10% number I gave you earlier in the article is generally regarded as pretty accurate across all of the elk hunting states and does not include rifle hunting success.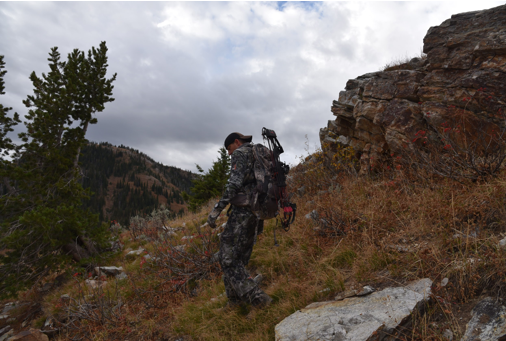 In Idaho, you can use the Idaho Hunt Planner to learn even more detailed information, which is one of the reasons I like Idaho. The 2017 Harvest Report is available now and can be downloaded by clicking here. I use the Idaho hunt planner for vital information that helps me decide from year to year which zones I will buy a tag in for the upcoming season. The detail here is incredible and can help those of you nail down specific units with ease. Remember though, that elk are not necessarily animals that stay in areas for long periods of time. Because of this, you can often look at these numbers and see high rifle success, but that doesn't mean those elk were in that unit when archery season was open. So keep little details like that in mind as you review state reports.
Even if you've never stepped foot on a mountain in elk habitat, if you review all those resources within this part of the series, I'm confident you will be able to get into elk if you do your homework!
-
Photo Credits: Personal photos of Rod by Michael Lloyd - 41 Digital, Colorado Parks and Wildlife Map, Elk 101 banner photo - Corey Jacobsen, OnX Map screenshot - OnX Maps.