Stay up to date
NFAA

News
Oct 07, 2013
First Time at The Vegas Shoot?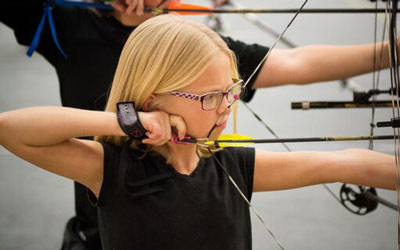 Headed out to The Vegas Shoot for the first time? You may be nervous, but it should be a good nervous. This is an experience that an archer should have at least once?.and, if you shoot it once, you'll want to do it again.
Maybe some pointers can get you through it your first year. If you are flying, check with the airline on any restrictions or limitations on your bow case. This will give you piece of mind when checking in with the airline.
The practice areas open up on Thursday afternoon as well as "check in" with the tournament. If you know which lane you are shooting on for the tournament, check the lighting on that lane and try to shoot under the same lighting for practice.
Get good rest the night before your first day of shooting, eat a good meal and try to stay with the same type foods you are used to at home.
Stay with your normal routine of shooting; don't over try your shot. You will get 2 minutes to shoot 3 arrows and for the majority of the archers, this is more than enough time. If you have to let down, do?.don't over try.
You may want to take a quick snack with you to the shooting line along with water or a sports drink. There is food and drinks available in the shooting halls, but this way you don't have to think about it. Good snacks are granola mixes, fruit, protein bars and even jerky.
On the shooting lane, there will be 3 or 4 shooters on your lane. Two of you will record the scores and "x" count on paper scorecards, one will use the electronic scoring and one will call the arrows. If you are apprehensive about the scoring system, just ask questions. There are plenty of officials and courteous archers there to help.
When you aren't shooting, visit the archery show. There is an abundance of information and equipment to look at, hands on. Check out the new bows, releases, sights, all sorts of equipment. And yes, some of these items will be for sale at the show.
You may also want to check out the other archers and what they are shooting. You are more than welcome to watch archers all day long. Plenty of seating and take your binoculars.
Most of all take in the experience and have a good time. You'll want to come back the next year and beat your score from this year. Hope this helps you first timers and we'll see you there!
Pam Severtson
CBH Secretary
Limbsaver Bows and Accessories
Shooting Staff