Stay up to date
NFAA

News
Sep 27, 2016
Gore Makes History At Outdoor National Target Championships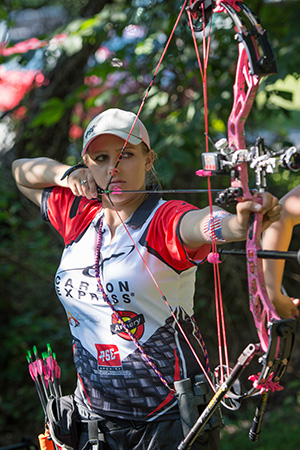 BY JEREMY HOECK jeremy.hoeck@yankton.net
Paige Gore made history on Sunday.
And as the 21-year-old professional archer from California would tell you, it was all because she changed the way she approached competition.
Gore became the first female archer in history to finish with the highest score in any National Field Archery Association (NFAA) tournament, according to president Bruce Cull.
She recorded a two-day score of 1418 at the third annual Outdoor National Target Championships, which concluded Sunday afternoon in Yankton. The top male shot a 1412 over the two days.
Gore, who typically shoots in Yankton a couple times a year, credited her record to a change in her own mindset.
"I used to get asked all the time before I left for a tournament,'Who's going to be your biggest competition?'" she said later Sunday, from the Easton Yankton Archery Center.
"That's probably the worst thing you can think."
In other words, Gore used to worry more about who she would be competing against than her own performance.
"I noticed in the past, I would have judged my determination off of who was showing up," she said. "Instead, now I tell myself to beat my own highest score."
Like all of the 260 archers competing in Yankton this weekend, Gore had to battle Saturday's rainy conditions - there was a lightning delay for a while - and Sunday's persistently windy conditions.
She still, though, recorded a score of 890 out of a possible 900 on Saturday, and followed that up with a round of 528 out of a possible 600 on Sunday.
Much like golf, archery is an individual sport where those participating are constantly battling themselves, Gore said.
And that's been her goal this year: Competing with herself.
"I'm super competitive anyway, and normally at most of my shoots, there aren't a lot of women to shoot with or against," Gore said.
To that point, her division - Female Pro Freestyle - this weekend had only one other archer.
So that made her goal of testing herself against the top professional males in the field a little easier, she said.
"I don't just want to be good in my own division, or just among all the girls," Gore said. "I think there's part of me that wants to earn more respect; that I can shoot with the big boys."
For whatever reason, too, scores from female archers across national tournaments have seen a rise this year, according to Gore.
"I'm not really sure why that is, either," she said. "Maybe they're practicing more or they're more determined.
"But with me, I just changed my mindset."
See full article at yankton.net.
Follow @jhoeck on Twitter