Stay up to date
NFAA

News
Jul 07, 2014
Keeping Comfortable: National Guard Builds Comfort Station For NFAA, Yankton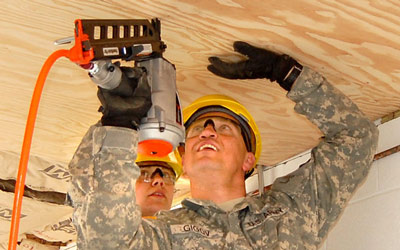 By Nathan Johnson, nathan.johnson@yankton.net
Click here to see full story
As part of a summer training camp, the South Dakota National Guard recently completed a project on the National Field Archery Association (NFAA) grounds in Yankton that will benefit the general public.
A comfort station that includes a bathroom, concession stand and registration area was started by the 155th Engineering Company of Wagner May 4 and finished in mid-June.
"We built it from the ground up. We put in the footings, poured the floor, plumbed it, ran the water and sewer lines and we are wiring it," said Chief Warrant Officer Tyler Vogt. "It gives our members the experience and confidence to do construction if we were to be deployed and have to do this in the theater. Some of the guys have construction experience from their civilian jobs, but a lot of them are college students or office workers who don't get to do this every day."
The National Guard regularly does work for non-profits, according to Vogt. The 155th Engineering Company specializes in vertical construction.
"Last year, we worked for the U.S. Forestry Service in the Black Hills during our summer camp," he said.
The NFAA received assistance from the National Guard last summer to build several outdoor ranges.
NFAA president Bruce Cull said the National Guard has done incredible work.
"It's going to be really cool to have people here from 60 countries a year from now (for the 2015 World Youth Championships) using something that our military built," he stated.
The NFAA and the City of Yankton combined their resources to build the comfort station.