Stay up to date
NFAA

News
Mar 20, 2022
Kyle Douglas secures third Indoor Nationals title in Louisville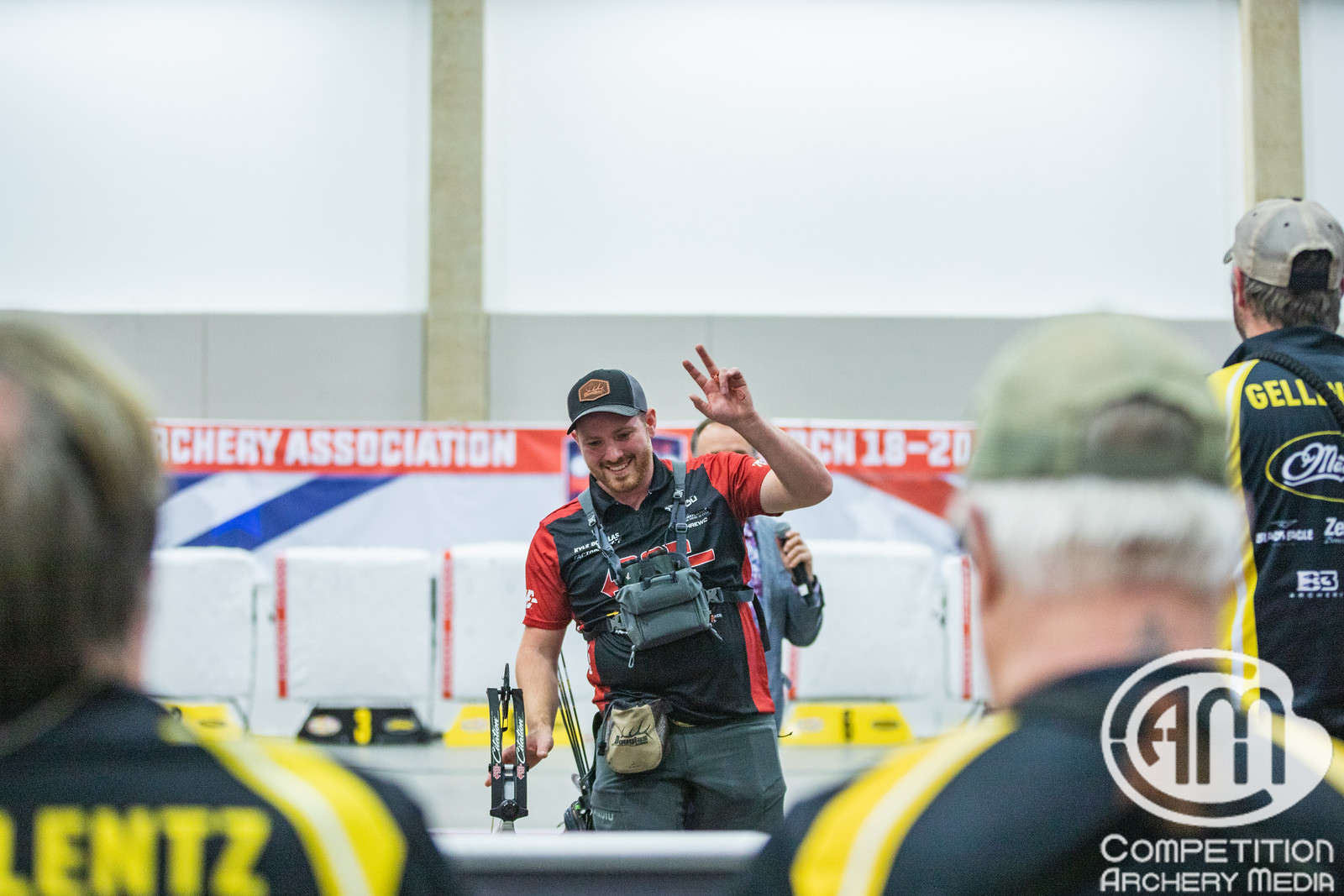 Utah's Kyle Douglas won Indoor Nationals for an incredible third consecutive time, beating 15 other perfect 600 120xs shooters to lift the champion trophy yet again on Saturday night in Louisville, Kentucky.
"It's pretty crazy. It's hard enough to win one, let alone three in a row," said Kyle. "I don't know how that happened. I'm thankful for it."
The 16 men took on the arena and started with a round of practice.
Nick Kappers and Bob Eyler were the first two shooters to drop from the line after the first end. Then, in the second, with sudden-death scoring inside-out calls on the middle ring, a further 10 missed the middle, leaving just four archers in contention.
Kyle Douglas, Sawyer Sullivan, Braden Gellenthien and Curtis Broadnax shot just one more end to decide the winner.
Sullivan, Gellenthien and Broadnax all clipped the inside of the X-ring, dropping points, leaving Douglas as the only remaining perfect shot - and now a three-time national indoor champion.
"I was staying focused. You never going to be calm out there, so there's no sense really trying to calm down too much but just not making big mistakes. I was just making the strongest shot I possibly can," he added.
Broadnax was given fourth, Gellenthien third and Sullivan second, the latter two needing one further end to decide the podium order.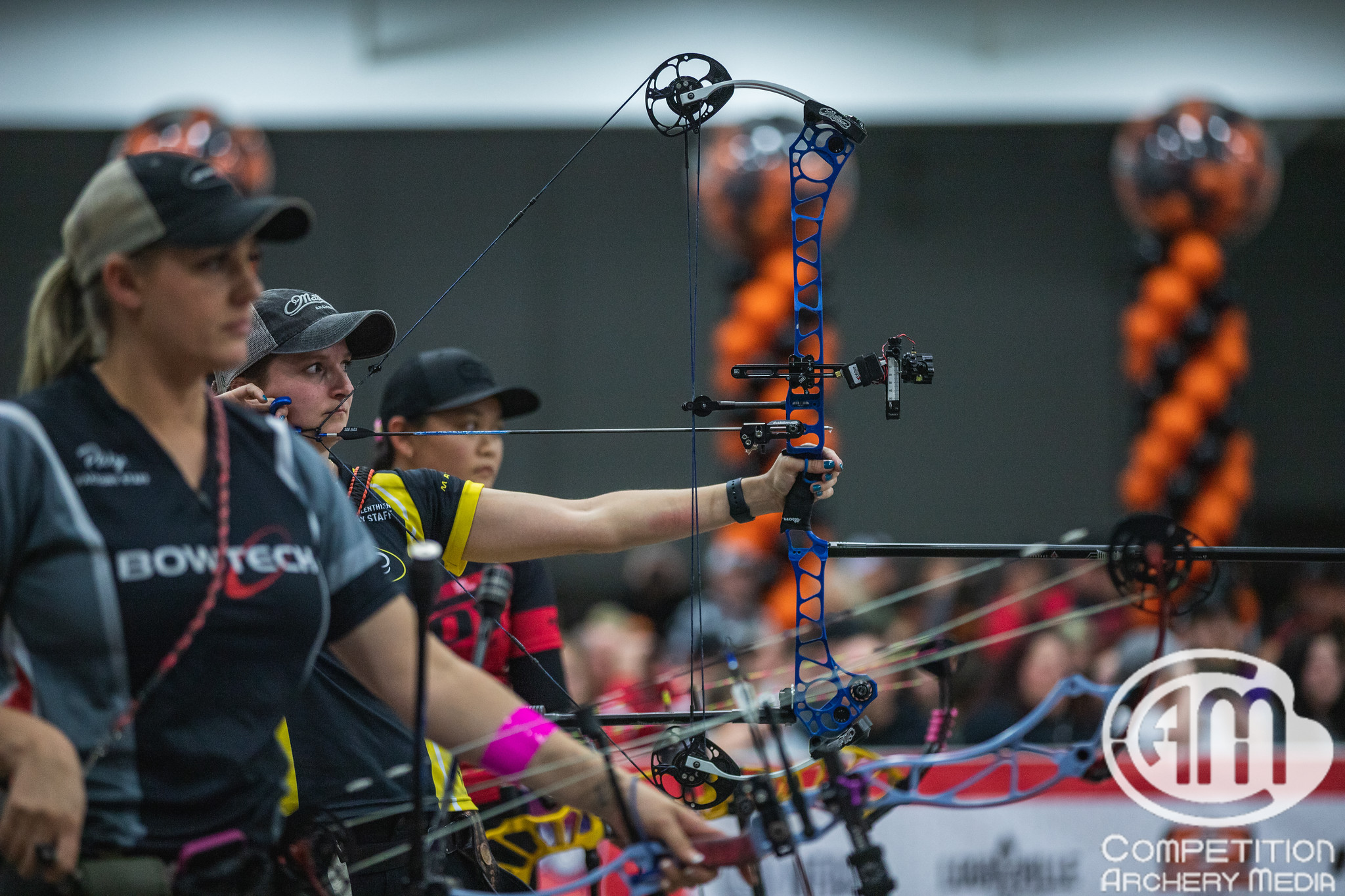 For the first time in the history of this event, the Freestyle Professional Female Champion title was decided in a perfect shoot-off, too. Tanja Gellenthien beat Paige Pearce and Liko Arreola in the historic finale.
"It feels amazing. It's the title I've been trying to get for many, many years and I've had my shots but there's been bad days or shot the wrong target, so this feels amazing," said Tanja.
Before Saturday, no woman had ever shot a perfect score at Indoor Nationals. In 2022, there were three.
"That honestly feels even better. To do it with the two other girls that we also shot the second ever 900 in Vegas is even more awesome."
Just as for the men, the women started with an end of practice followed by inside-out scoring rounds.
Tanja, Paige and Liko tied two ends, first with 25 and then with 24 as the pressure ramped up. In the third, back-to-back Vegas Shoot Champion Arreola dropped a point and was eliminated in third. Tanja and Paige continued to decide the winner.
With her fourth arrow of the fourth end, Pearce landed a four. Tanja Gellenthien needed two more perfect arrows to claim victory - and she delivered.
"Fast is not really my go to shot, so when you see me out there and I'm slow, that's not what I want, I want that fast shot. I was actually slower than I wanted to be today."
Kendall Woody took the Freestyle Professional Senior Male division title, followed by Randall Morocco and Benton Christensen in second and third place.
Other winners included in Fiona McClean of Canada in the Freestyle Professional Senior Female, Todd Nelson in the Freestyle Professional Silver Senior Male and Tom Coblentz in the Freestyle Professional Master Senior Male divisions, all on X-count.
Competition at the Louisville 2022 Indoor Nationals concludes with the second and final scoring day for junior and amateur archers on Sunday.
For full results check Ianseo.