Stay up to date
NFAA

News
May 05, 2021
Louie Rangel is Inducted Into the NFAA Hall of Fame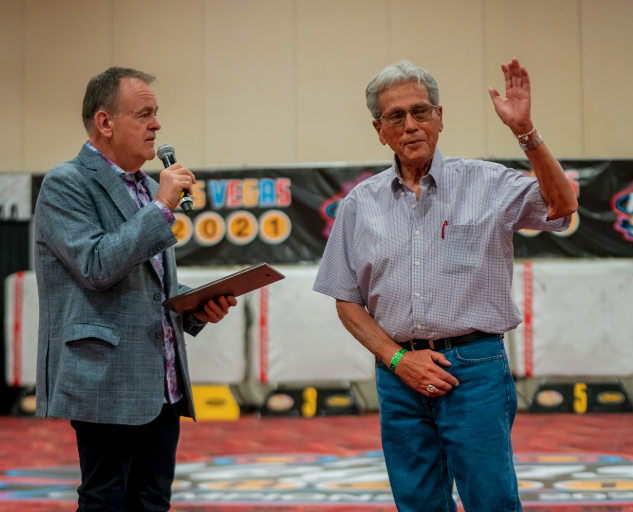 Yankton, SD - Louis "Louie" Rangel, a distinguished archery innovator, accomplished competitive archer, and life-time NFAA member was formally inducted into the NFAA Hall of Fame on Saturday, April 17, 2021 during The Vegas Shoot Championship Shoot-Off event which took place at South Point Hotel and Casino in Las Vegas, Nevada.
The NFAA Hall of Fame, which began in 1947, recognizes individuals for their lifetime archery achievements. Rangel, who hails from Riverside, California, has an archery career which began in 1956 when he was only 20 years old. Rangel is only the 28th member to receive the honor, which showcases the significance of his induction.
In his nomination letter, NFAA member and nominator, Bob Borges expressed his admiration for Rangel's archery contributions, "Louie is a life-time member of the NFAA and has dedicated all of his archery life to promoting this great organization. He has worked in the archery industry, coached archers and developed many products during the 65 years he has devoted to the sport we love." The list of archery accolades that Rangel has merited is quite impressive including; California Bowmen Hall of Fame, Lifetime Achievement Award from the California Bowmen Hunters Club, Riverside California Sportsman's Hall of Fame, 10 NFAA National Championships, IFAA Field Championship, Castaway Money Shoot Champion, North American Field Archery Championship, 41 California Bowmen Hunters State Championships, has represented numerous companies as an innovator and product developer, (at one time) held a total of five patents on archery equipment, and still competes regularly at 85 years old.
Rangel recounts the beginnings of his career, "Back in 1956, I was just 20 years old, had just gotten married and was at a friend's house who had just gotten into archery. That was the first time I shot a bow. He gave me a few pointers and the rest is history. I just fell in love with it - the sound of the arrow leaving the bow and the impact on a target."
Now in its 65th year, Rangel's career has provided him with countless memories and opportunities. Rangel recounts winning the first money shoot in Las Vegas - "The Castaway Money Shoot". "It was the first time that the City of Las Vegas had endorsed a money shoot. I won 100 real silver dollars, back when they used to use those in the slot machines. I always find that entertaining to share with people when they ask how long I've been shooting archery. I can say, well I shot the first money shoot in Vegas."
When asked to look back at all of his competitive success and recount which tournaments stood out the most to him Rangel shared, "Well, they all stand out but winning my first California State Championship in 1963, drove me to go try the Nationals, which was in Running Springs, California and I won with a bare bow recurve at Nationals, so that was the most memorable to me."
Rangel's competitive accolades are only the tip of the iceberg. His career is robust and includes many accomplishments as an inventor, businessman and developer, working for some big names in archery, such as Hoyt, Easton, and PSE. "As I was looking for a winning edge, I started thinking, ?Okay, I practice and do the things that build a champion, but I think there are some things in equipment that might give me an advantage.' And one of the things I'm most proud of is that I went to work for Easton Aluminum Arrow Company in Southern California as a product engineer and went on to be promoted to a product development manager in Salt Lake."
At one time, Rangel held an impressive five patents for archery equipment including; two variable length fletching systems, a dual-purpose arrow shaft insert, multi-purpose arrow assembly tool,arrow nock and shaft insert and the uni-bushing nock system. "I'm very proud of the uni-bushing because all of the arrows used to be swedged and you couldn't adjust the knocks so I came up with this idea." He also developed a transfer system to apply graphics on arrows. "They used to adonize an arrow with a camouflage green, and then the dye would just be painted on in various lines. Remember when you were a kid and you used to wet a paper and make a transfer on your arm? That is how I evolved the transfer system. Rather than painting the lines on a shaft, I came up with a machine process to use that basic concept, but I used heat instead of water. It was called sublimation ink, and the rest is history."
When asked if there were things that archery provided Rangel that he didn't expect, he expressed "Oh, yes! The camaraderie of the people involved in archery. I look back at it now, and the camaraderie of people is what's kept me in it for so many years - the many friends I've made across the United States. I've traveled around the country with this passion, made many friends, and even though we're old now we still keep in contact with each other. You know, trophies come and go, but the memories I have with my many friends and even youngsters who come up and say, ?Hey Louie, look I won a trophy like you!', that is just dear to my heart."
Rangel went on to share what being inducted into the NFAA Hall of Fame means to him. "I think it's simple. It's the icing on the cake of my career. It means a lot to me to be among that list of 28 names. Because, you know tournaments come and go, and they're forgotten - the wins and losses, but the Hall of Fame in my eyes is a special place forever."
NFAA Foundation President Bruce Cull shared his thoughts about Rangel's induction. "His history in archery speaks for itself. He is one of only three Hall of Fame recipients during my tenure with the NFAA (of more than 25 years) and he is truly a legend of the sport. It really was an honor to recognize him for all of his accomplishments and contributions, which have had a tremendous positive impact on the sport."
At the induction ceremony, Rangel received a NFAA Hall of Fame plaque that reads: "National Field Archery Association congratulates Louie Rangel, 2021 recipient of the NFAA Hall of Fame. The NFAA Recognizes you for your numerous championships, records, archery innovation, product development history and lifetime archery achievements. Your archery accomplishments and contributions are greatly appreciated. Presenting on the 17th day of April in the year 2021, at the South Point Hotel and Casino, during the 2021 Vegas Shoot Championship."