Stay up to date
NFAA

News
Oct 14, 2014
New Archery Themed Book Series Launched Based on NFAA Youth Archer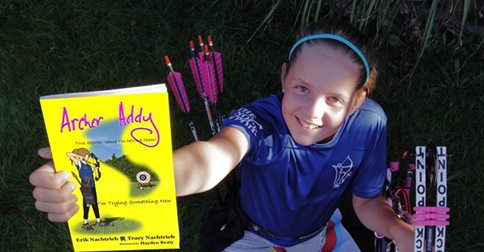 Seattle, Washington Children's book empowers young girls to "Try Something New!" is the subtitle of Addy's first book. A book about a real girl with real dreams and adventures in Archery.
Addison "Archer Addy" Nachtrieb, an 11 year old female National Champion archer and two time Washington State Junior Olympic Champion, releases the first book in her Archer Addy book series on Amazon.com and Kindle.
Written by her father from Addy's Facebook posts and training journal entries and illustrated by 17 year old illustrator, Hayden Beaty, the first book, "I'm Trying Something New", follows Addy from the first time she picks up a bow to her first National Championships!
"Archer Addy is a heartwarming story about a young girl's passion for archery and the hard work it takes to reach her goals. It's a great read for any youth with big dreams and a will to succeed." -Erika Jones (#1 Ranked Woman's Compound Archer - 2014 USA Archery Team, #1 World Ranked and the World Archery 2013 Female Athlete of the Year)
Archer Addy wants to inspire young girls to try archery or just try something new. She communicates hard work, setting goals and finding the will to succeed.
"I very much enjoyed the first Archer Addy book. It reminded me of my own experiences growing up in archery and my excitement at my first big tournament, as well as my relationship with my father as we were learning the sport together. Addy's insights are excellent and I look forward to reading of her future adventures and watching her grow up in this sport. The art is really well executed." - Jamie Van Natta (15th World Ranked Female Compound Archer - 2014)
Addy trains out of the Nock Point Archery Club and is on the Next Step Archery Select Team where she also teaches youth and adults beginning archery.