Stay up to date
NFAA

News
Apr 21, 2015
Perkins Falls One Arrow Short of the $1 Million Prize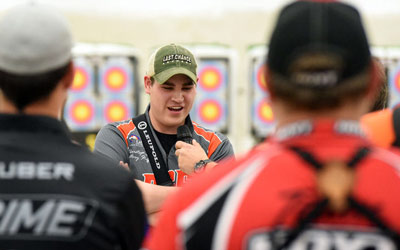 BY JEREMY HOECK, jeremy.hoeck@yankton.net
Click here to view full article at www.yankton.net.
Chris Perkins maintained he wasn't nervous as he chased archery history.
All he needed to do was record another perfect round Sunday and he would leave Yankton with the sport's first-ever $1 million prize.
"If you get yourself thinking a little bit too much in this game, it really takes a toll on you," Perkins said after his round Sunday at the First Dakota Classic, a weekend tournament held at the Easton Yankton Archery Complex.
"I just tried to keep calm and cool and stuck with my shots."
Ultimately, the 22-year-old Ontario, Canada, resident - who said later he thinks archery is 90 percent mental - came up one shot short of the $1 million.
Perkins narrowly missed on his first arrow at 60 yards Sunday, ending his bid for archery immortality. He still captured the First Dakota Classic championship male title, recording a 2-day score of 1199 out of a possible 1200.
"I scored one round at home before I left, so to come here and shoot clean (Saturday) and only one down today, you know what, I'll take it," Perkins said.
Coming into the weekend, there were seven archers eligible for the $1 million prize, open to any pro who records a perfect score - "clean," in archery lingo - at all three legs of the 3 Star Tour (Las Vegas, Kentucky and Yankton).
Perkins was the only archer to shoot a perfect 600 on Saturday, which meant Sunday afternoon's line would be closely followed. A national archery website that was filming the action reached out to ESPN about sending footage, but the network declined.
While those spectators in the crowd and his fellow archers consistently focused their binoculars on his target, Perkins remained relaxed.
"I really thought he was going to do it," fellow pro Braden Gellenthien said. "He's really shooting well, and he's a great competitor.
"I've never really seen him get nervous before, and I don't think he did today."
Never before had an archer made it through day one of the third tournament with a "clean" score, but Perkins not only made a run at the money, he got past the halfway point of his Sunday round.
Each archer shot five arrows over 12 "ends," which four ends at 40 yards, four at 50 yards and four at 60 yards. Perkins was perfect through his first eight ends, but missed his first shot at 60 yards.
"I knew it released high, and it hit pretty much right where the pin was," he said. "I really have no excuses for it."
As the dust settled on the excitement, the question left remaining was, will anyone capture the $1 million prize?
"I think it's very doable, yeah," Perkins said. "After this weekend, with the scores I shot, only one down, I think it's certainly doable.
"When it'll be done, I have no idea."
For now, all that's left to consider is what might have been.
"I wish he would've done it," Gellenthien said. "It would've been amazing for the sport."

$10,000 Shoot-Off
Chris Perkins' pursuit of the sport's first-ever $1 million prize wasn't the only serious cash captured at the First Dakota Classic.
Gellenthien, a resident of Boston, won the annual $10,000 shoot-off late Saturday night. He beat out two other archers (Jesse Broadwater and Donnie Thacker) at 60 yards for the money - he, like everyone in the past, took the cash rather than a new car.
"It was a great experience. I've been really close before," Gellenthien said. "Every shot I took past 50 yards, I thought that was the winning arrow.
"It took a lot longer, but it made it a pretty special day for me."
Joking Sunday that he made $900 per shot he took the previous night, Gellenthien said he believes the First Dakota Classic will continue to grow. There was an increase this year of over 100 archers from 2014.
"The city and venue, it gets better every time we come back," Gellenthien said. "With as close as Chris got to the million, it's going to add to the excitement.
"I can't wait to see how much bigger this tournament can get."