Stay up to date
NFAA

News
Sep 04, 2015
Pro Profile: Christopher Perkins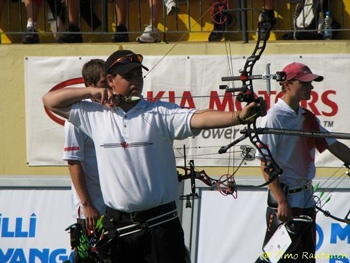 NFAA: How old where you when you first got into archery, and how did you get your start?
Christopher Perkins: I was 11 when I received my first bow. The main reason for me starting archery is very similar to a lot of people and that was for hunting. Being able to hunt with a bow meant a longer season. I was first introduced to 3D, and slowly turned to target archery a few years later.
NFAA: How do you normally train for a tournament?
Christopher Perkins: This past season my training was slightly different then my previous years. Every time I shot my bow I worked on something small, whether it be eyes on the shot or just working on my release hand, I always had a main focus on something different. I didn't over train, which I have done in the past and just ran out of steam when it was time to actually shoot the event. This year I practiced a few days before hand to make sure the bow was shooting how I wanted it to and to make sure I was as well.
NFAA: What is the biggest obstacle you had to overcome during your archery career?
Christopher Perkins: The biggest obstacle for me in my shooting career would have to be my nerves. Shooting local tournaments has no affect on you like shooting a big international event. Getting nervous and learning to cope with it I would have to say is something that an archer can only over come by being in the moment and experiencing it.
NFAA: You have been on quite a winning streak, how does it feel to have won the Lancaster Classic and First Dakota Classic?
Christopher Perkins: Winning Lancaster was an amazing feeling. I have been shooting Lancaster for 4 years and absolutely love the event and loved the new venue. The Dakota Classic was another amazing feeling but to tell you the honest truth, I was there for one reason and that was to bring home the Million.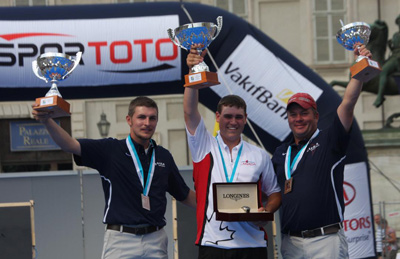 NFAA: How has your life been after the First Dakota Classic and almost winning 1 million dollars?
Christopher Perkins: My life has pretty much been the same except for the people reminding me of that one shot and how close it was.
NFAA: What are your goals for 2016?
Christopher Perkins: I don't really set goals for myself because I don't want to be disappointed if I don't achieve them. So I basically enter each year with a clear mind to do the best I can do, that's all anyone can ask of himself or herself.
NFAA: What's your favorite archery memory?
Christopher Perkins: Probably my favorite archery memory was winning the 2011 World Archery Championships in Torino, Italy. See photo to the left.
NFAA: What's your favorite tournament to shoot at?
Christopher Perkins: My favorite tournament is by far the Redding Classic Trail Shoot. See photo below.
NFAA: Do you have any other hobbies other than archery?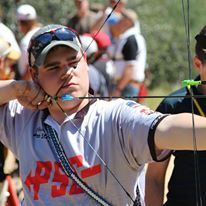 Christopher Perkins: I recently took up Skeet shooting a few years ago and love it. It gives me time off the shooting line and on the shooting station.
NFAA: Do you have any advice for aspiring archers?

Christopher Perkins: Advice I give to every aspiring archer is to have fun with it, it's a sport everyone can enjoy and there are a lot of great people involved. Get out and find someone who has the knowledge to teach you correctly so that you start on the right track.