Stay up to date
NFAA

News
Dec 14, 2018
The NFAA and Mount Marty College Team Up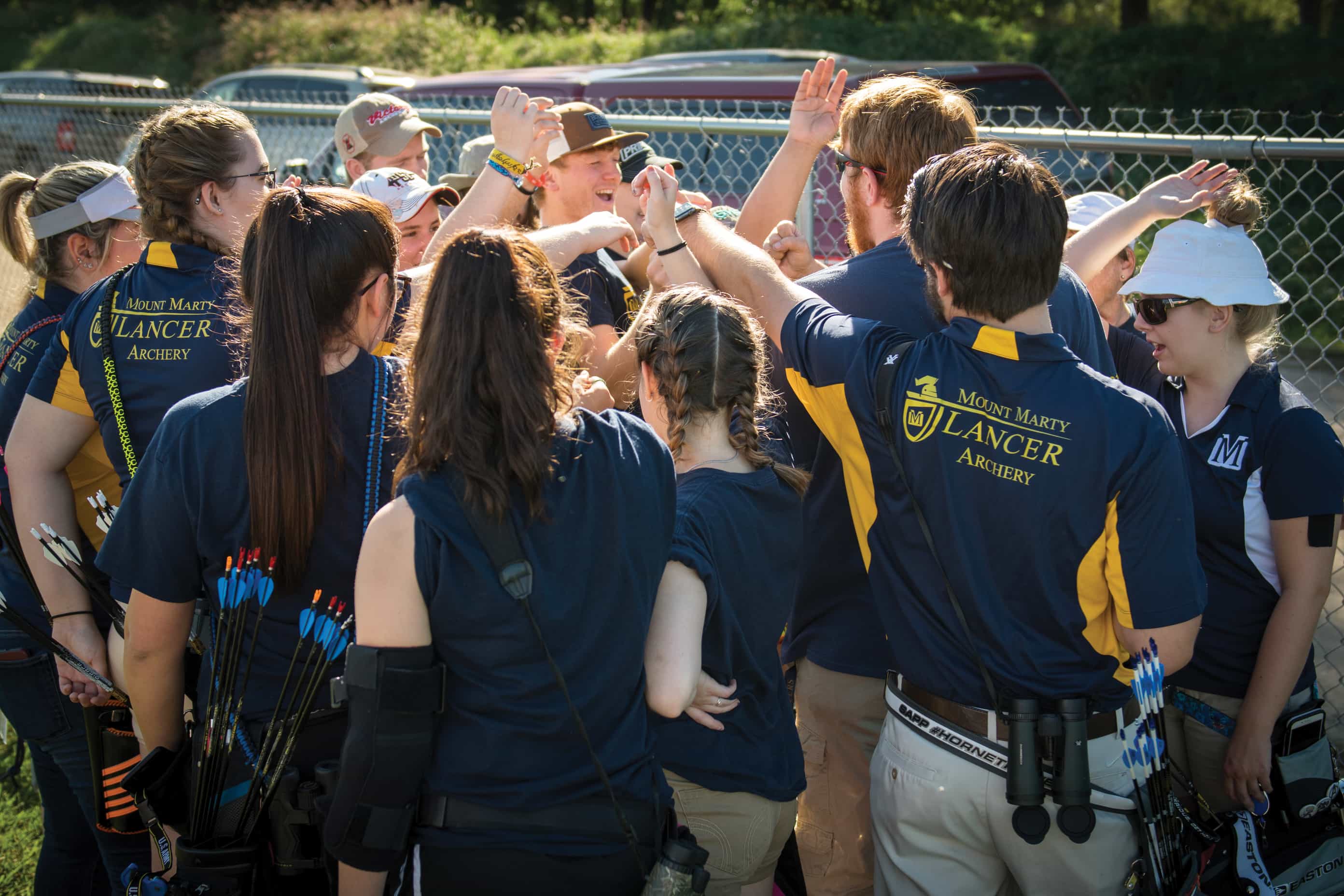 YANKTON, SD - Nearly two years have passed since Mount Marty College (MMC) launched a U.S. Collegiate Archery Association (USCAA) program on its main campus in Yankton, S.D. The team has made its home at the NFAA Easton Yankton Archery Center (NEYAC) since it began as a club sport in 2011. In 2016 they graduated to varsity status in 2016 and have been growing ever since.
Small but mighty is how head coach Josahan Jaime-Santacruz describes her team which started with a single varsity archer. "We started with one archer, and even in that first year we found success at several regional events," said Jaime-Santacruz. "Since then we've grown to 13 student-athletes and four bow divisions - compound, bowhunter, olympic recurve and barebow."
The Lancers have seen tremendous success accompany this growth. In the last year, the team has attained 20 podium placements at regional championships and seven podium placements in national championship competitions.
McKenna Cooley, an olympic recurve archer from Henderson, N.V. has seen her share of success. She holds the championship title for both the 2018 Collegiate Indoor National Championship and the 2018 NFAA Outdoor Target National Championship tournaments. Cooley says her involvement in collegiate archery is paying dividends. "My favorite thing about being on the Mount Marty archery team is all the friendships I've made with my teammates over the last year." The sophomore English major adds that her participation in collegiate archery is providing her with something even more important, "Archery has taught me leadership skills, compromise, and patience." Cooley's success and that of her teammates springs forth from natural talent but is also nurtured by a top-notch coaching staff and world-class training facility.
The Lancers train and often compete at the NEYAC. The 100-acre facility, which is a short six-minute drive from the MMC campus, is the largest of its kind in the world and serves as the headquarters of the National Field Archery Association. The archery center boasts a first-of-its-kind indoor archery range where the Lancer archers can shoot a full 90 meters - about the length of a football field - in a climate-controlled indoor environment that's ideal for year-round practice and competition. The center also includes two 90 meter outdoor ranges with grass fields, three outdoor field courses to accommodate all three NFAA field rounds and a 3-D range with 44 animal-shaped foam targets shot from an elevated platform.
The Lancers are also fortunate to have a coaching staff that is well seasoned. The team's head coach, Josahan Jaime-Santacruz, has been involved in archery for more than 20 years as a competitive compound archer. After graduating from Texas A&M, where she was a collegiate archer and a three-time All-American athlete, Jaime-Santacruz started a career that is centered on archery. For eight years she managed Robin Hood Archery in Indio, C.A. and began her coaching career at the local JOAD program. Later, she became the assistant program director for archery at the Athletic Institute of Baja California, Mexico supervising international archery camps and eventually became the archery coaching development coordinator for the organization. Before joining the team at NEYAC, she was a member of USA Archery's Junior Dream Team coaching staff.
Anne Abernathy joined the Lancer coaching staff as assistant coach in 2018. Abernathy is an internationally trained coach from St. Thomas, Virgin Islands. Abernathy has attended World Archery & World Archery America's coaching clinics in Puerto Rico, Colombia, and Chile. As a competitor, she's participated in numerous WA World Cups, world ranking events, world and continental championships, and the Central American and Caribbean Games with multiple top-ten finishes. Abernathy is the current VI Champion and Americas Masters Champion as well as the National State Games of America Champion and is in training to compete in the 2020 Summer Olympics. Coach Anne is no stranger to elite competition; she is a six-time Winter Olympic athlete in the sport of luge, the first athlete in Olympic history achieve such a feat. Coach Anne was recognized by the Women's Sports Foundation as one of the top 100 female athletes and was nominated twice for the International Olympic Committee Women in Sports Award.
With an exceptional training facility, outstanding leadership, and a successful year of competition under their belt it seems like the Lancers are on top of the collegiate archery game, but coach Jaime-Santacruz foresees success that extends beyond college level archery and perhaps archery altogether.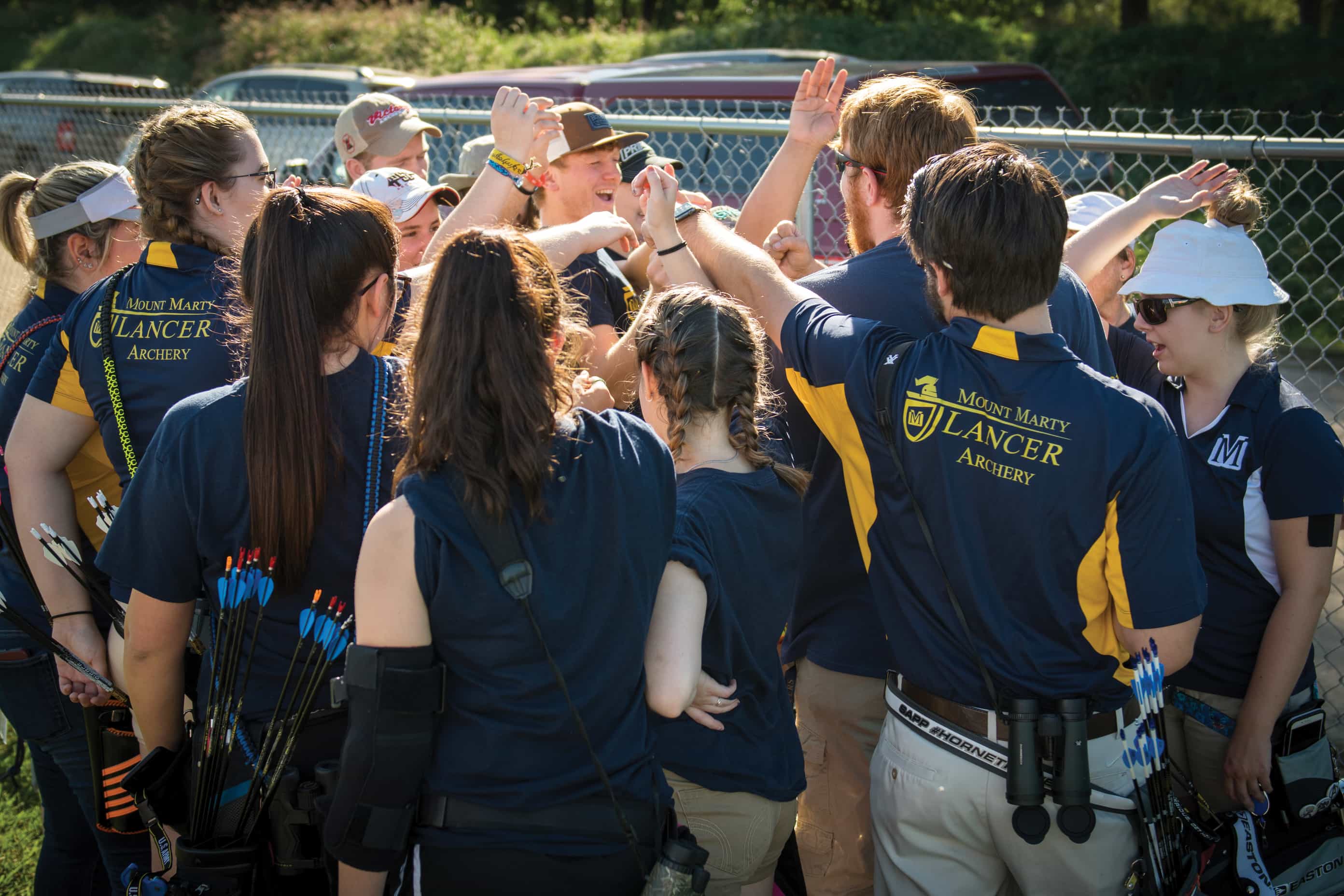 "MMC's archers aren't just competing and winning in collegiate tournaments, they're also competing at national open tournaments where they've shot against adult archers who have many years of experience- and they've done well!" Jaime-Santacruz believes that success speaks to the quality of the archers choosing to continue their competitive archery career at Mount Marty, but also to the college's loftiest goal which it's held since archery program was being developed. "Ultimately, our goal was to offer a pathway for young archers who want to use archery as a means to get a quality education; we provide them with four years of instruction and personal growth, and then we hope they continue on to their professional careers as stewards of the sport and proud MMC alumni with unique resumes."
Jaime-Santacruz feels that goal is coming to fruition as she reflects on 13 individuals who came from various parts of the country but have now come together as a team. "I've seen tremendous growth in each of our archers over the last year, not just as athletes, but also as individuals and team members," says Jaime-Santacruz. "They care about each other's success, not just as athletes, but
also as people; it's been fantastic to watch, and makes me eager to see what the future holds for Mount Marty archery."
Mount Marty College offers a variety of in-demand majors including education, nursing, science, business, and criminal justice degrees. To learn more about academic programs and scholarship opportunities at MMC visit www.mtmc.edu or call 605-668-1545. To learn more about archery at MMC visit http://www.mmclancers.com/archery.
-
Founded in 1936 by the Sisters of Sacred Heart Monastery, Mount Marty College is a Catholic, Benedictine school of higher education located along the bluffs of the Missouri River in Yankton, South Dakota, with additional locations in Watertown and Sioux Falls. Mount Marty offers undergraduate and graduate degrees with particular focus on student and alumni success in high-demand fields such as health sciences, education, criminal justice, business, accounting, recreation management and more. A community of learners in the Benedictine tradition, Mount Marty emphasizes academic excellence and develops well-rounded students with intellectual competence, professional and personal skills and moral, spiritual and social values. To learn more, visit www.mtmc.edu.