Stay up to date
NFAA

News
Feb 10, 2018
Vegas Shoot closes day 1 with 85 perfect scores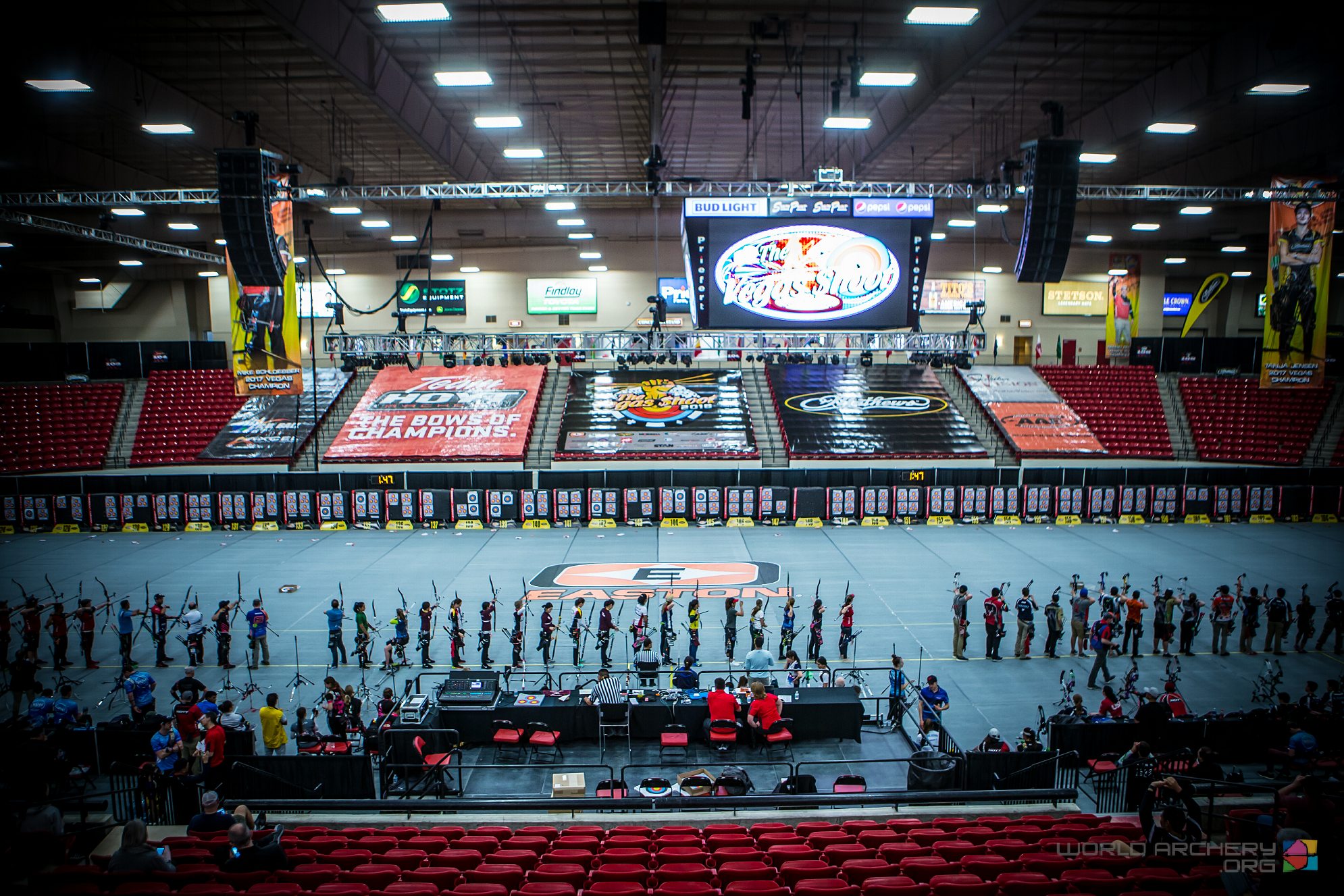 Across all divisions, 82 men and 3 women shot clean during competition day one.
The 52nd edition of The Vegas Shoot kicked off in the South Point Hotel, Casino & Spa in Las Vegas, Nevada at 7:00 a.m. with an incredible 3550 participants from all around the world.
Across all the divisions, 85 archers, 82 men and 3 women, shot 300 out of a possible 300 points over the first 30 arrows of competition on day one.
Championship competitors shot on the triangular three-sport Vegas target face, while flight had a choice and junior athletes used a single face with the full 10 scoring zones.
Championship divisions
Led by Jesse Broadwater with 29X, 49 men in the freestyle open championships division stayed clean.
"Feeling pretty good about it, but still a long way to go. Gotta string two more good days together and then hope for the best in the shoot-off," said Jesse after his qualification.
Danielle Reynolds's 300 led the women with 23X, over Alexis Ruiz and Andrea Marcos with 22 and 21 Xs each.
Reigning compound open and compound women champions Mike Schloesser and Tanja Jensen dropped one and two points each, respectively.
Dane Johnson led the compound young adult with 25X over five fellow compatriots and Vincent Manicini, the compound senior division with 27X.
Flights
The compound flights, with 18 clean men, was the other division with perfect 300s at The Vegas Shoot. Jason Goedken tied Jesse's score with 29X, too.
Day 2 of competition runs from 7:00 a.m. to 5:30 p.m. and will host the Indoor Archery World Cup Final in the main arena to close.
Follow live results from The Vegas Shoot 2018 at info.worldarchery.org. Full coverage on NFAA website, The Vegas Shoot Facebook page, Twitter and Instagram.