Stay up to date
NFAA

News
Aug 06, 2015
World Archery Congress Presents Award to NFAA President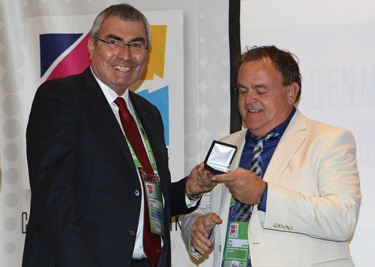 The 51st World Archery Congress was held July 24th - 25th, 2015 in Copenhagen, Denmark where many prestigious awards were received.
World Archery President, Professor Dr. Ugur Erdener, received a unique award from the Presidents of World Archery's five continental associations thanking him for his contribution to making archery an important Olympic sport.
Dr. Erdener presented the 2014 nations award, presented to the most successful national team on the Archery World Cup circuit. The United States of America received first place followed by Republic of Korea in second and Mexico in third.
USA archer, Khatuna Narimanidze, received the Women's Award 2015 for her outstanding contribution to archery as both an administrator and an active athlete. As well as her contribution to the governance structure of the Georgian federation as its President, Khatuna was also a silver medallist at the Baku 2015 European Games.
The United States of America also came in first for the Member Association and Female Athlete's award for highest female participation in international events. India was on the podium for second place and Mexico in third.
Since 1955, World Archery Congress also has recognized the importance of contributions of individuals and organizations from in and outside the World Archery Family to the ongoing growth and success of the sport. The Congress recognizes such contributions through its most prestigious award: gold, silver and bronze plaquettes.
Bruce Cull, President of the NFAA, was this years only United States recipient of the silver plaquettes. It was awarded to him because of how instrumental he was in the creation of the Indoor Archery World Cup. He also organized the World Archery 2012 Indoor Championships, the 2015 World Archery Youth Championships and continues to host the successful Vegas Shoot.
Only 9 other individuals from the United States have received the silver plaquette since 1955. Robert Smith (2011) and Tom Green (2007) were among that group. The two most recent United States recipients of the gold plaquette are James Easton (1985) and Robert Phillips (2007). No gold plaquettes were awarded this year.
Other silver plaquettes were awarded to Kim Hyung Tak, Derrick Lovell MBE, Ken Bearman, Olivier Grillat, Paul Charvnit and Jamil Baharuddin.
It was also announced that Miriam El Mahiri, organizer of the Archery World Cup stage in Marrakesh, would receive a bronze plaquette.
NOTES:
World Archery Congress:
World Archery Congress is the governing body of World Archery, comprising its member associations, Executive Board and representatives from its permanent committees. Congress meets every two years and has the power to amend the World Archery Rulebook and Constitution via motion, elect Executive Board members - including the World Archery President - committee members and other officers.