Stay up to date
NFAA

News
Mar 11, 2020
Day by day at Louisville 2020 Indoor Nationals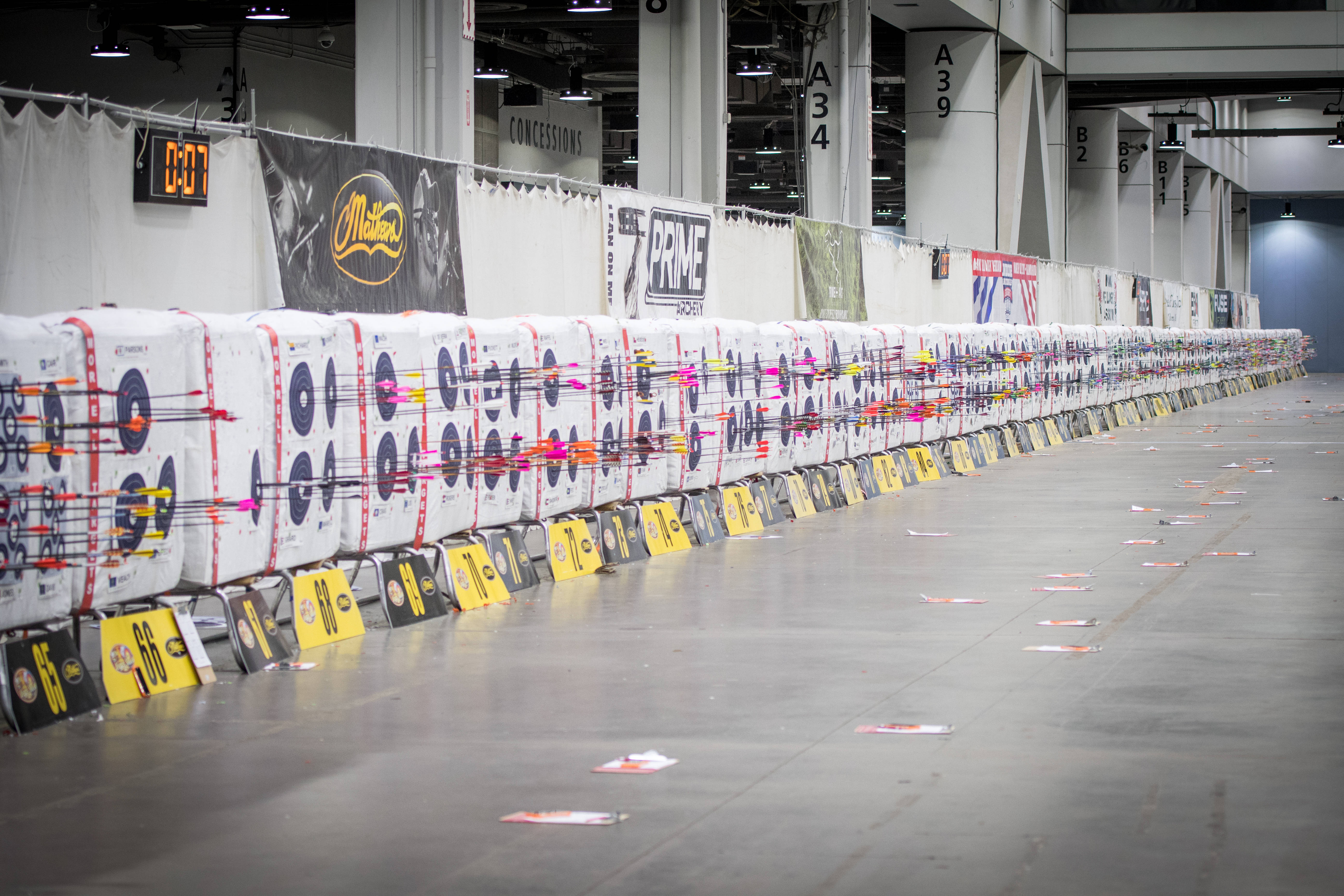 The second stop of the 20th NFAA Annual Star Tour takes place in Louisville, Kentucky with Indoor Nationals on March 20-22, 2020.
Archers shoot the NFAA 300 Indoor Round at a blue and white target face.
It's each archer's choice between a single- or five-spot, but everyone shoots 60 arrows - 12 ends of five - for a maximum of 300 points per round. Most targets are set at 20 yards; cubs aged 11 and under shoot over 10 yards.
Taking place at the newly renovated Kentucky International Convention Center (KICC), here's what not to miss next weekend.
Thursday, March 19
Highlight: start of check-in process, S3DA Indoor National, USA Archery Indoor Finals
9:00AM-6:00PM S3DA Indoor Nationals*
9:00AM-6:00PM Archery Trade Show
9:30AM-6:00PM USA Archery Indoor Finals (Collegiate & Senior)**
6:00PM-8:00PM Check-In & Practice for Professional Divisions Only
*S3DA Indoor Nationals: S3DA™ will host their 5th annual S3DA™ Indoor National Championship in conjunction with NFAA Indoor Nationals. Students will have the opportunity to compete against S3DA™ members from across the United States for the title of National Indoor Champion in their division.
**USA Archery Indoor Finals: The top eight archers of any age class are eligible to qualify for the USA Archery National Indoor Finals, for head-to-head, single elimination matches in the Recurve Men, Recurve Women, Compound Men, Compound Women and open-gender Barebow divisions.
Friday, March 20
Highlight: Meet the pros*, ProAm team event**
9:00AM-6:00PM Archery Trade Show
9:00AM-6:30PM Late Registration/Check-in
9:00AM-6:30PM Paid Practice/Bow Storage
11:00AM Professional Divisions: Day 1 Scoring
3:00PM-4:30PM Meet the Pros
5:00PM ProAm Team Event
5:00PM USA Archery Indoor Medal Matches (Collegiate & Senior)
*Meet the pros: Free and open to all archers 17 and under. Mix and mingle with professional archers from around the world for autograph signings, prizes, games and giveaways. No registration or equipment needed.
**ProAm team event: All Amateur archers will be evenly divided among the Professional participants and will compete as pairs. Space is limited to 3 Amateur shooters per Professional. Please help us maximize the Amateur registrations by pre-registering for the Professional division. Must be 14 or older by March 20, 2020 to register. All professional registrants must have a current NFAA Professional membership.
To register visit: www.nfaausa.com
Saturday, March 21
Highlight: Archery Trade Show*, professional shoot offs**
5:30AM-7:00PM Bow Storage
6:00AM-3:30PM Paid Practice
9:00AM-6:00PM Archery Trade Show
7:00AM/11:00AM/3:30PM Shoot Times: Day 1 Scoring
11:00AM Professional Divisions: Day 2 Scoring
8:00PM Professional Shoot Off
*Archery Trade Show: Meet with the people behind the best archery manufacturers, distributors and retailers in the world, check out the latest gear and get the best event-only deals.
**Professional shoot offs: Professional divisions at Louisville 2020 scores through the first two days of competition, deciding its winner on Saturday night.
Sunday, March 22
Highlight: Award ceremonies following each shooting line (TBD)
9:00AM-TBD Archery Trade Show
TBD Paid Practice/Bow Storage
TBD Shoot Times: Day 2 Scoring