Stay up to date
NFAA

News
Jun 04, 2013
Easton and NFAA Foundations Award Over $20,000 in Scholarships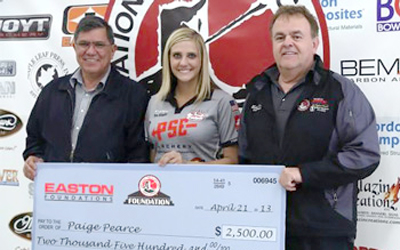 Yankton, SD-The Easton Foundations and the National Field Archery Association Foundation are pleased to announce the 2012 Archery Scholarship Recipients. $20,500 in total scholarships was awarded to 14 student athletes in middle school, high school, or higher educational programs. All recipients compete with a compound or recurve bow. The individual scholarships awarded ranged in amounts from $500 to $2,750. Top scholarships were awarded to Michelle Gilbert, Paige Pearce, Riley Whiting and Daniel Cunningham.
Michelle Gilbert, a Recurve shooter from College Station, TX, stated, "Receiving this scholarship gives me the opportunity to attend college and continue pursuing my dream of making the 2016 U.S. Olympic archery team." Gilbert was a member of the Junior World Team in 2009 and 2011 and has competed at shoots around the World. She will begin attending Texas A&M in the fall and plans to major in Aerospace Engineering.
"Archery is a huge part of who I am and I cannot imagine my life without it. It has given me unbelievable opportunities to travel and meet amazing people," praises Paige Pearce of Red Bluff, CA. Pearce, currently the youngest NFAA Professional Female Freestyle archer, has been involved in the sport of archery since the age of two. Pearce was a member of the Junior World Team in 2008, 2009 and 2011. She currently attends Shasta College in Redding, CA and plans on continuing her education at Cal Northern School of Law.
"Michelle and Paige are both elite athletes in their respective divisions. They have continued to excel in the junior and professional programs and we are proud to award them two of our top scholarships in 2013," commented Bruce Cull, NFAA President. NFAA Scholarships were first awarded in 1990 to student athletes that compete in archery and excel in academic and intellectual achievement. In 2009, the Easton Foundations partnered with the NFAA Foundation to create the current endowment.
"The Easton and NFAA Foundations share the goal to support student athletes that compete in archery. We believe these scholarships will help us to develop strong college archery programs and strengthen future Olympic and World Championship Teams. By combining our respective Foundation programs, we can award more student scholarships and increase the scholarship levels," quoted Greg Easton, President Easton Foundations.
The Easton Foundations, NFAA Easton Yankton Archery Complex and donations from both individuals and companies fund the scholarship program. Robert Romero, Easton Foundations, states, "In order to grow the sport of archery, we need to encourage and support our youth archers. Awarding our best archers and student athletes will allow them to focus on their education while competing and training in archery. I encourage everyone to make a donation to the Easton/NFAA Foundation Scholarship Program."
Individuals or companies interested in donating to the scholarship fund or learning more about the program are encouraged to contact Bruce Cull, NFAA President. The NFAA Foundation is a 501(c)3 Public Charitable Foundation and all donations meet the IRS requirements as charitable donations. Scholarship applications, program requirements, and additional information is available on the NFAA website, www.NFAAUSA.com, or from the NFAA Headquarters, 800 Archery Lane, Yankton, SD 57078. All applications for the 2013 scholarships must be submitted to the NFAA office by December 31, 2013. For additional information, contact Natalie Vollmer, NFAA Executive Secretary, at 605-260-9279 or at info@nfaausa.com.
Easton Foundations and NFAA Foundation Scholarship Recipients
Michelle Gilbert: College Station, TX - $2,750
Riley Whiting: Cove, UT - $2,500
Paige Pearce: Red Bluff, CA - $2,500
Daniel Cunningham: San Diego, CA - $2,500
Katie Alexander: Roseville, CA - $2,000
Eliot Simon: Sayville, NY - $2,000
Tristan Skarvan: Elk Mound, WI - $1,500
Garrett Abernethy: Aiken, SC - $1,250
Jenna Ahn: Coto de Caza, CA - $1,000
Adam Gallant: Bryan, TX - $500
Carli Cochran: Willow Street, PA - $500
Marcella Hebert: Spencer, WI - $500
Emma Harris: Yankton, SD - $500
Ryan Penhallurick: Brecksville, OH - $500
Dave Gordon Scholarship Recipient
Cole Duensing: Clinton, MO - $1,000
NFAA Memorial Scholarship Recipients
Kayleigh Rogers: Plano, TX - $500
Marcella Hebert: Spencer, WI - $500
Wyatt Hespe: Okaton, SD - $500
Riley Whiting: Cover, UT - $500