Stay up to date
NFAA

News
Oct 05, 2015
Sports Innovator Jim Easton Gifts New Easton Archery Center of Excellence to U.S. Olympic Training Center in Chula Vista, C.A.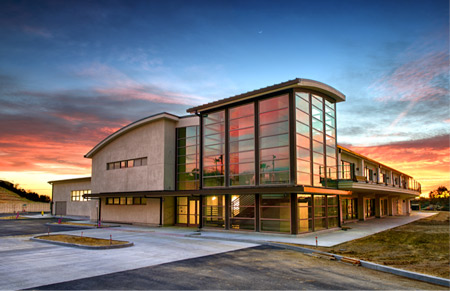 San Diego, Calif.-Jim Easton, sporting goods industry innovator and archery's greatest benefactor, has given the archery world an amazing gift through the Easton Foundations, the Easton Archery Center of Excellence, touted as the world's premier indoor training facility.
The Easton Archery Center of Excellence is located on the campus of the U.S. Olympic Training Center in Chula Vista, Calif. The new Olympic archery training center boasts a 42,629 sq. ft. facility consisting of a 22,440 sq. ft., 70 meter indoor range, a nearly 1,100 sq. ft. indoor/outdoor shooting range, fitness room, athlete lounge, coaches' offices and multiple classrooms and conference rooms. The state-of-the-art technology within the center comprises ultra-high speed video, a 3D imaging system and multiple high tech tools to assist current and future Olympians toward their goal of Olympic Gold. The complex also consists of 30-bed housing, two 90-meter outdoor shooting fields and much more.
"Part of my vision to support the development of sports education and programs for youth and aspiring Olympic and World Champions has included designing, building and supporting archery training facilities," said Jim Easton. "The Easton Archery Center of Excellence, is the culmination of years of planning and hard work by a team devoted to the goal of providing...leadership, facilities, programs, training and education for the growth and development of archery; an unmatched experience for Olympic archery hopefuls; and a legacy, which will allow archers from around the world to pursue their competitive dreams."
Designed by Bob Easton, Jim's brother who is a champion archer and renowned architect, the multi-million dollar training facility lives and breathes archery. The ceiling of the main indoor range hosts massive glulam wood beams that span nearly 90 feet across the room. The curved ceiling was designed to complement the classic flight of the arrow; a feature Jim felt would enhance aesthetics and provide a subtle archery theme to the room and building.
A grand opening celebratory private VIP tour and luncheon is scheduled for Thursday, Oct. 22 from 11 a.m. to 2 p.m. at the Easton Archery Center of Excellence located at 2800 Olympic Parkway, Building 2000 in Chula Vista, Calif. Media and invited guests will be able to take a tour of the elite facility, meet world-renowned Olympians, watch Olympic archers compete, try their own skills at archery and enjoy food and festivities.
"Archery has meant so much to the Easton family for over 90 years," said Greg Easton, president of the Easton Foundations. "Through the Easton Foundations, my father's dream of supporting archery from the grassroots and community level all the way to high-end competitive archers is being realized. This state-of-the-art Archery Center of Excellence at the Olympic Training Center provides competitive athletes a dedicated place to hone their skills and pursue their Olympic dreams."
ABOUT THE EASTON FAMILY
Archery has long been a passion for the Easton family. In 1922, Jim Easton's father, Doug, began crafting custom wood bows and cedar arrows. Although he produced tournament-grade, footed cedar arrows for the archery champions of that era, he was constantly frustrated with the inconsistency and lack of uniformity of wood shafts. In 1939, he began developing and manufacturing aluminum arrows in Los Angeles. This was the beginning of a trend that would change traditional archery and transcend into numerous other sports arenas over the next 50 years.
In 1960, Jim Easton joined the company and was pivotal in expanding the product offerings from wood and steel to lightweight, high-strength, aluminum and carbon composite products. Later, Jim formed the subsidiary, Easton Sports, which became the leader in innovative aluminum and carbon-fiber composite sports equipment. Easton's high-performance aluminum and then composite baseball and softball bats and ice hockey sticks revolutionized the industry. Easton also introduced light-weight and high-strength cycling components and wheels. Jim became Chairman of Easton-Bell Sports, Inc., which was formed in 2006 with the merger of Easton Sports, Riddell, and Bell-Giro companies. He continues to serve as CEO of the world's largest archery equipment company, Jas. D. Easton, Inc.-the owner of Easton Technical Products, Hoyt Archery and Delta Sports.
Beyond Jim Easton's contribution to the sporting goods industry, his commitment to the archery world and its Olympic hopefuls has been steadfast. Easton was elected President of the International Archery Federation (FITA) in 1989 and served for 16 years until 2005. Easton became a member of the International Olympic Committee (IOC) in 1994. He was elected IOC Vice President and member of the executive board in 2002 and has served on the nominations, marketing and other commissions. He was also a member of the United States Olympic Committee (USOC) Board of Directors and the National Archery Association Foundation Board of Directors. He is a member of the boards of the LA84 Foundation (the legacy of the 1984 Olympics) and the UCLA Anderson School of Management.
ABOUT THE EASTON ARCHERY CENTER OF EXCELLENCE
Funded by the Easton Foundations, the Easton Archery Center of Excellence boasts one of the largest dedicated indoor ranges in the world. This premier facility, along with Easton Foundations' four other operating archery centers will provide superior performance training for teams and individual athletes while focusing on developing the archery talents of current and future U.S. Olympic Archery team members. The other Easton Foundations operating centers are located in:
Salt Lake City, Utah
Newberry, Fla.
Van Nuys, Calif.
Yankton, S.D.
In addition, the Easton Foundations has funded archery centers both locally and around the world. These include our five affiliate archery centers as well two international centers:
Outdoor Education Center in Lincoln, Neb.
Outdoor Adventure Center in Brookings, S.D.
West Michigan Archery Center in Rockford, Mich.
Demmer Shooting Sports Education and Training Center at Michigan State University in Lansing, Mich.
Georgia Southern University Shooting Sports Education Center in Statesboro, Ga.
Archery Excellence Center of Madrid, Spain
World Archery Excellence Center in Lausanne, Switzerland
The Easton Foundations has also supported over 15 other archery centers in the US as well as the hundreds of archery programs that will enable families, youth, adults and the disabled to experience archery.
The Easton Archery Center of Excellence will enhance California's ability to attract and host major archery events, including world cups and world championships that bring significant economic impact and media exposure to the state.
For more information on the Easton Archery Center of Excellence or the Easton Foundations, please visit our website www.esdf.org.
ABOUT THE UNITED STATES OLYMPIC COMMITTEE
Founded in 1894 and headquartered in Colorado Springs, Colorado, the U.S. Olympic Committee serves as both the National Olympic Committee and National Paralympic Committee for the United States. As such, the USOC is responsible for the training, entering and funding of U.S. teams for the Olympic, Paralympic, Youth Olympic, Pan American and Parapan American Games, while serving as a steward of the Olympic and Paralympic movements throughout the country. The Chula Vista Olympic Training Center opened in 1995 and is dedicated to the development of Team USA's current and future Olympians and Paralympians. For more information, visit TeamUSA.org.
ABOUT THE EASTON FOUNDATIONS
Created by Jim Easton, CEO of Jas. D. Easton, Inc., the Easton Foundations aims to promote and maintain the viability of archery by growing the sport as a mainstream activity at the state, regional and national level. This is accomplished by developing grassroots programs in communities and schools, supporting college and university programs, and through these efforts, inspiring the next generation of Olympic hopefuls. Additionally, the Foundations support the building and/or operation of outdoor and indoor archery facilities at city parks, schools, universities and sports complexes throughout the U.S., and provides programs to train aspiring archers, trainers, coaches and administrators. For more information on the Easton Foundations, please go to the website www.esdf.org. Connect with us on Facebook.