Stay up to date
NFAA

News
Mar 19, 2022
Three women to shoot off for national indoor title for first time in history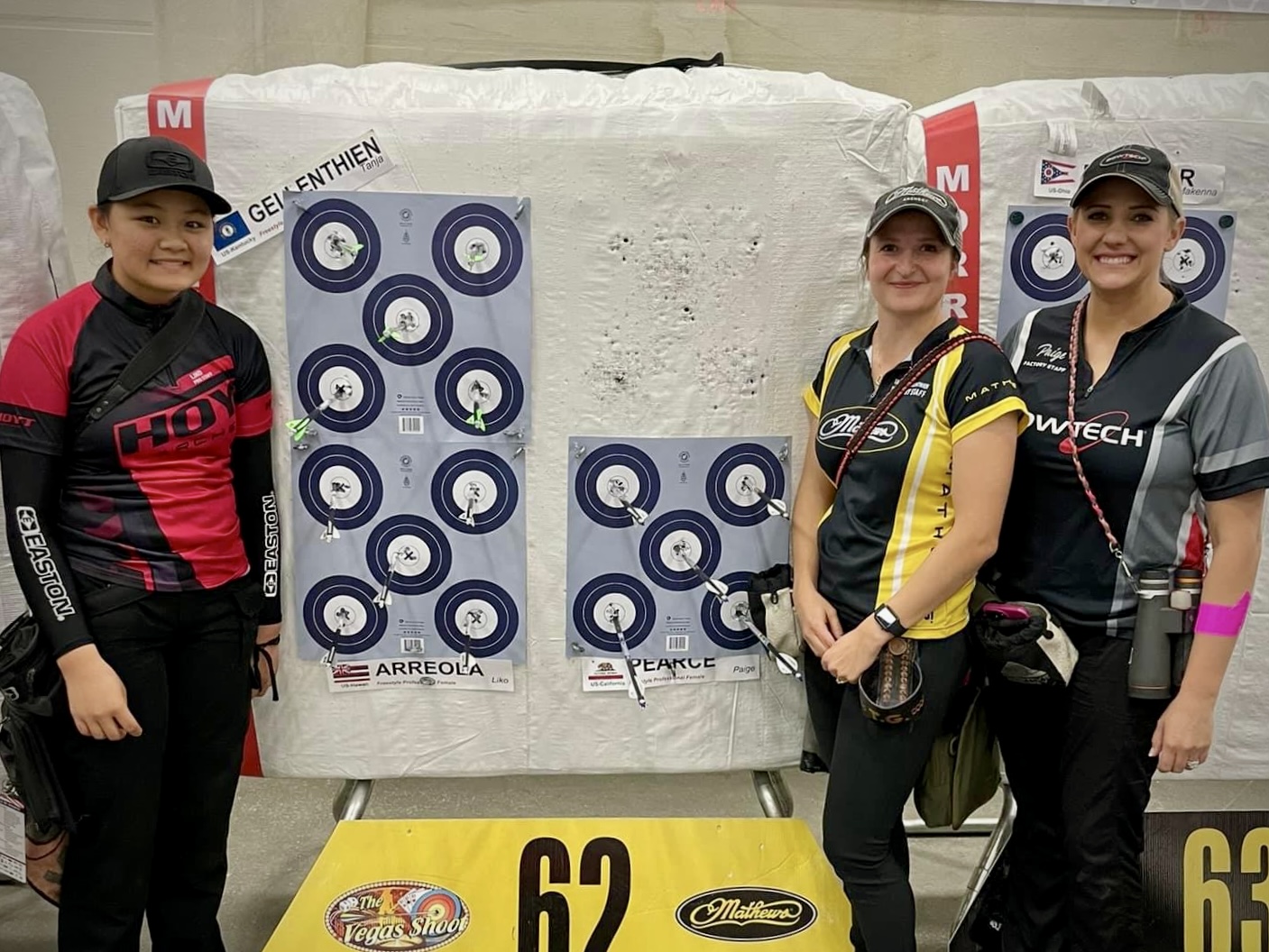 For the first time in the history of Indoor Nationals, the winner of the Freestyle Professional Female division will be decided in a shoot off.
Liko Arreola, Paige Pearce and Tanja Gellenthien each shot perfect scores of 600 points with 120Xs to make history. These are the very same three women who also tied on perfect scores at the Vegas Shoot in February, with Liko eventually taking the win.
"No other girl has cleaned it before and we're three girls who clean it this year, the same girls who did in Vegas," said Tanja. "Hopefully we can switch up the podium spots a little bit but it's going to be really exciting."
At Indoor Nationals, archers shoot two rounds over two days. Each round consists of 30 arrows, split into 12 ends of five, for a total of 300 points per day. A combined score of 600 points is the maximum and only those who shoot 120Xs automatically move into the final shoot offs on Saturday night.
No woman had ever achieved that feat before this weekend.
Pearce added: "It means a lot. There's three of us going out there tonight: myself, Tanja and Liko. All of us kind of made history in Vegas for being the 900 girls that repeated it, and then we're also now the first three to do it [here in Louisville], so it's pretty neat. We were all down there joking saying like'here we go it's a repeat of the Vegas shoot off', which is pretty cool."
The other professional competition that will decide its champion in a shoot off is the Freestyle Professional Male division.
A total of 16 archers cleaned it after the two regulation scoring days, including defending back-to-back champion Kyle Douglas.
"It would be really cool do it three in a row, it'd be kind of special but I kind of look at it one step at a time same as I would with any other shoot off. Just go in there you and just try and buckle down and shoot every other the best I can," he said.
The other 15 perfect men to shoot perfect in 2022 are: Steve Anderson, Richard Bowen, Curtis Broadnax, Jesse Broadwater, Dave Cousins, Bob Eyler, Braden Gellenthien, Robert Householder, Dane Johnson, Nick Kappers, Jacob Marlow, Brent Platt, Jeff Raney, Jacob Slusarz and Sawyer Sullivan.
Shoot offs will take place at 20hrs following a performance by contortionist and foot archer Orissa Kelly alongside Easton's 100-year celebration.
For full results check Ianseo.