Stay up to date
NFAA

News
Feb 18, 2015
Wifler Wins Big in Vegas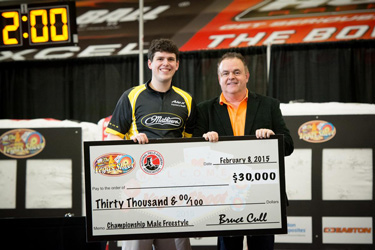 The 2015 Vegas Shoot has come to an end, but some archers are still celebrating their "big checks" from the largest archery payout ever of over $275,000. With a record setting 2,578 registered archers, the weekend was filled with exciting moments and memories that will last a lifetime.
For the Championship Male Freestyle, 17 shooters were left clean after three days of shooting. The first 15 dropped quickly and it was down to Alex Wifler (U.S.A.) and Levi Morgan (U.S.A.) to decide who would claim the $30,000 check. After another 3 arrows, Mathew's shooter Alex Wifler, only 20 years old, was crowned the Vegas Champion.
In the Championship Female Freestyle, Sarah Prieels came away with the victory shooting an 898 with 58x. Rodger Willett, Jr. was victorious in the Championship Senior Freestyle shooting an 897 with 67x. In a class that continues to grow, Dewayne Martin won the Championship Barebow with a score of 851 with 26x. In the Championship Male Freestyle Limited Recurve, Jinhyek Oh claimed the Vegas Champion title shooting an astounding 891 with 42x. For the Championship Female Freestyle Limited Recurve, Seung Hyeon Jo was crowned as the winner shooting an 875 with 36x.
This year, a Championship Division was added for the Young Adult archers. Over 80 Young Adult archers participated in the Championship Young Adult Freestyle or the Championship Young Adult Freestyle Limited Recurve. The Championship Young Adult Freestyle came down to a shoot off between Kyle Douglas and Sebastian Cooper. Kyle Douglas came away with the win shooting a 29 during the shoot off. In the Championship Young Adult Freestyle Limited Recurve, Humberto Arellano-Papachoris was victorious after 3 days of shooting with a score of 848 with 25x.
The largest growth in 2015 was in the Junior divisions with over 550 participants. The NFAA Foundation, in partnership with Easton Foundations, awarded a total of $24,000 in archery scholarships to the top three places in each Junior division.