Stay up to date
NFAA

News
Apr 22, 2014
Yankton to Host 2014 Outdoor Nationals and WFAC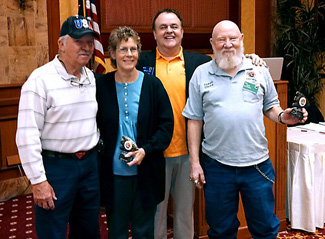 Greetings Fellow Archers!
Wow! What an incredible way for us to celebrate our 75th Anniversary! Not only hosting the 69th National Field and the IFAA World Field but at our own Headquarters and if that's not enough, it will be the grand opening of the NFAA Museum! This July 30 through August 9 will be the highlight of Everything NFAA and Everything Field Archery in Yankton, SD. The following is the complete Schedule of Events:
Wednesday July 30, 2014 NFAA National Outdoor 28-Field Targets
Thursday July 31, 2014 NFAA National Outdoor 28-Hunter Targets
Friday Aug 1, 2014 NFAA National Outdoor 28-Field Targets
Saturday Aug 2, 2014 NFAA National Outdoor 28-Hunter Targets
Sunday Aug 3, 2014 NFAA National Outdoor 28-Animal Targets
Sunday Aug 3, 2014 NFAA National Outdoor Awards
Sunday Aug 3, 2014 NFAA Foundation Museum Grand Opening
Sunday Aug 3, 2014 IFAA Opening Ceremony
Sunday Aug 3, 2014 Archers Appreciation BBQ Easton Field
Monday Aug 4, 2014 IFAA World Field 28-Field
Tuesday Aug 5, 2014 IFAA World Field 28-Hunter
Wednesday Aug 6, 2014 IFAA World Field 28-Animal
Thursday Aug 7, 2014 IFAA World Field 28-Field
Friday Aug 8, 2014 IFAA World Field 28-Hunter
Friday Aug 8, 2014 IFAA Banquet/Dinner
If you haven't made plans to attend, please do so now. This will be an incredible gathering of Field Archers from all over the World. We are very pleased and proud to showcase our state-of-the-art NFAA Headquarters-NFAA Easton Yankton Archery Center (NEYAC). The Center consists of a 50,000 sq. ft. building, which has a 90-meter indoor Range that converts to 2-25 lane 20 yard ranges with a 40 yard 3-D Range. 2-Classrooms, training room, workout studio, multi-use room, conference room, warehouse and storage, several offices and of course the NFAA Corporate Offices. Outside, the building is located on approx. 90 acres of land which consists of 3-NFAA Field Ranges, 2-Olympic Ranges, 2-30 Target 3-D Ranges, Bowhunter elevated platform, a Trap Range and a Fishing Pond. Contiguous to the property is a KOA Campground (Yankton Missouri River KOA). This is 60 site full service Campground with all the amenities, including; convenience store, playground, heated pool, Laundromat, cabins, lodges, full electric, WIFI and Cable TV. The KOA is owned in part by the NFAA and is open year round.
In 2011 we experienced a devastating 500-year Flood of the Missouri River, which flowed directly through our field ranges. Since that time we have been working diligently to rebuild the property and the ranges. In 2013 the National Guard spent a month with several soldiers doing engineering, dirt work and the building of archery specific topography to enhance our ranges. Assisting with this were several volunteers including Steve Coleman of Texas and Frank and Becky Pearson of Arizona who spent weeks assisting with the layout of the new ranges. This past February in Las Vegas at the NFAA Annual Meeting, I presented them with the Presidents Award for their tireless contribution to the NFAA through their work on these ranges. The Presidents Award is the highest commissioned award in the NFAA. This Range reconstruction project will be complete by this summer's Tournaments and has been 1.3 million dollar Project. I would like to thank on behalf of the NFAA all those that volunteered, especially the National Guard and all those that provided grant funding; State of South Dakota, Easton Foundation, City of Yankton, Yankton County, SD Game, Fish & Parks through the Pittman Robertson Program. I hope you will come and see for yourself and enjoy this incredible facility!
Incidentally, NFAA Headquarters will be the only facility in the World that has been host to all 3 IFAA World Tournaments. The World Bowhunter Tournament in 2009, World Indoor in 2013 and the World Field in 2014!
See you all in July!
Bruce Cull,
NFAA President